What projector can I get with $50?
If you are tight on budget, have $50 dollars or less to spend of a projector, then you are at the right place, in this article we will be looking at a few best cheap projector under 50 dollars that you can get for your Android, iPhones, Laptops or you can use with USB drives and memory cards.
For whatever use that you intend ato use it for, this article is for you.
*Disclaimer: We do not guarantee that projectors mentioned in this article is really under 50 dollars.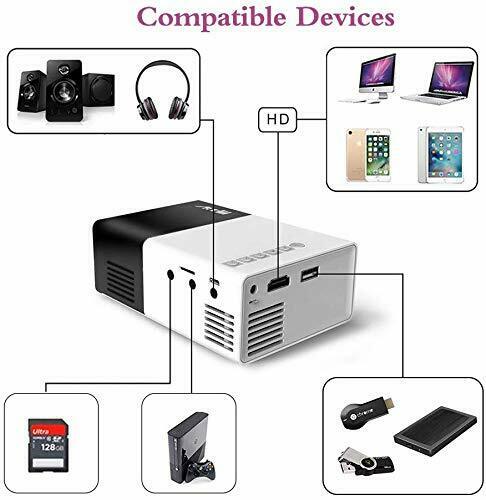 Check out the Artlii Mini projector on Amazon
Being cheap a projector under 50, the Artlii mini projector has 600 lumens, thats how bright this projector is, with the blinds and curtains closed, it should be good enough for movies, pictures and art tracing.
It has a contrast ratio of 800:1 with a native resolution of 320 x 240 and will support upto 1080P.
In terms of image size and distance from the projector screen to the projector, this projector will do 24- 60 inches from 1 to 3.8 meters.
For whatever use in mind, this projector is portable and is no bigger than an iPhone 6 length-wise and can be put inside a bag.
For input, you can use either of the following input methods HDMI, AV, SD and USB.
One the good thing that I liked about this projector is that it can be used with a powerbank, it can be unplugged from the power outlet and plugged into a powerbank. giving it the ability to be used outdoors.
That's really convenient considering it's a cheap projector under 50.
Because you can get one of these projectors without even spending half of a hundred dollar bill, it makes it a good projector for kids use.
Kids can use use these to watch cartoons and movies and also trace art, they make good projectors for art tracing, although I would not recommend these for art tracing as texts can be a bit fuzzy.
In terms of the material of this projector, users have said how the Artlii projector is made up of durable material and is light weight.
Users also mentioned how the menus and user interface was and is easy to use (very intuitive).
Only drawback to this projector that users mentioned was how this projector does not do very well at close distance, so to get most out of the Artlii mini projector, you would have to give it some distance.
As mentioned by users, although it is not the best projector in terms of picture quality, but for the price, it is really go for image tracing, movies, kids gaming and pictures.
Pros & Cons
Good pictures
Light weight
Speaker has low volume
Has to be used in a dull room
Check out the Artlii mini projector on Amazon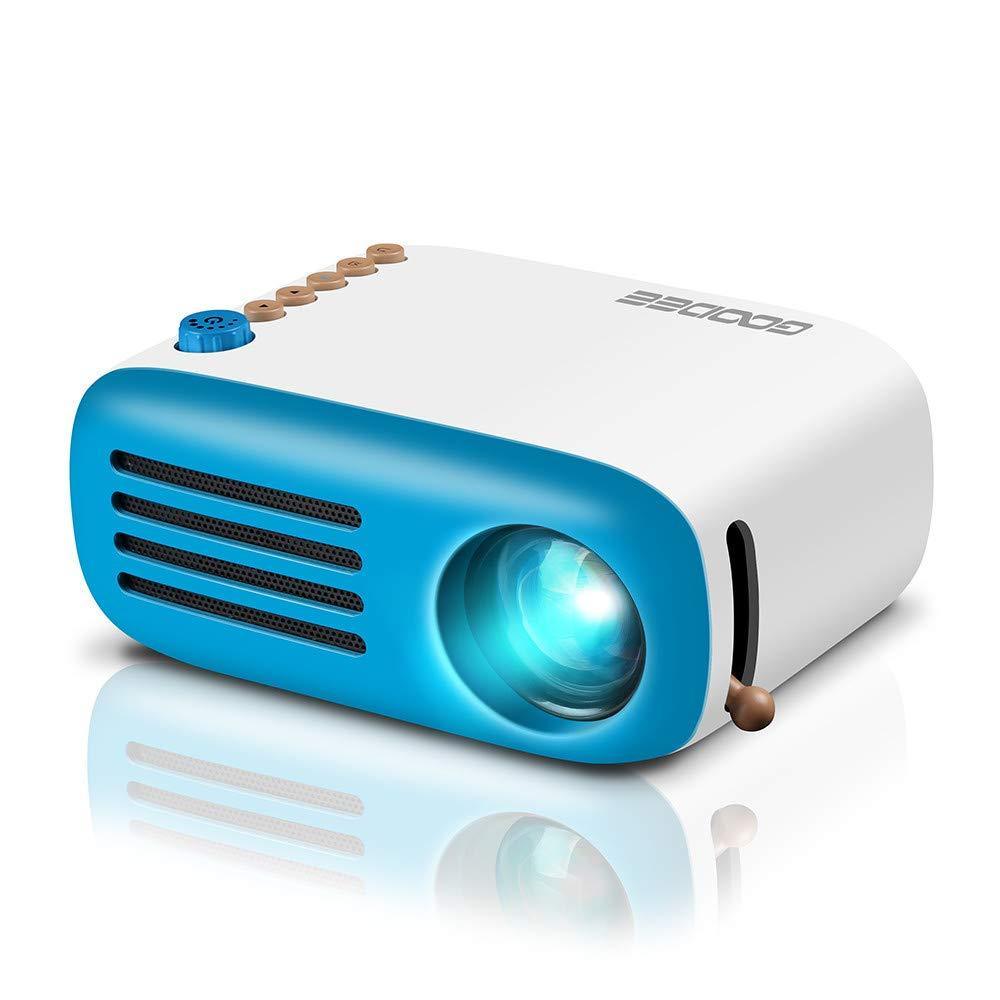 The GooDee mini projector is a colorful projector that kids will love, this projector has 50 ansi lumens and is 320 x 240 native with a contrast ratio of 500:1 all that for less than 50 dollars.
The size of this thing is no bigger than two cell phones stacked up together.
Although it is 320 x 240 native, it can support up-to 1920*1080 pixels, so it can play 1080P videos from Youtube and also through it's input.
Speaking of input, with this Goodee Mini projector you can plug-in your HDMI cable or USB with your videos and still photos, yes, it can be used to view JPEG photos.
Although it does not have an internal battery, a power bank can be used together with this.
With that said, it can be used during camps, parties and other outdoor activities where there is no power sources, it will be through a Powerbank that it's power will be supplied.
Although it may not be the 1080P 3000 lumen projector, it can however be used for tracing images in a dull to dark room (for the best performance) .
There is a screw hole at the bottom in which a tripod can be screwed onto. Adjust the distance and focus of this projector, you could have a inexpensive good movie projector.
Now let's look at what users thought of this projector.
To begin with, this projector has received overwhelming reviews considering that it is a cheap projector  under 50 dollars, which is a good sign.
Regarding the GooDee mini projector, users mentioned how this projector is small and cute and how they loved the color of the projector.
Secondly, users mentioned how although this projector is not equivalent to a $300 projector, it is however decent when used in a small and dark room.
Lastly, the small and loud speaker of this projector was greatly appreciated by the users.
Check out the GooDee mini projector on Amazon
I chose this projector to be the featured image or icon of this article simply because it is aesthetically pleasing, it has the modern robotic kind of look which I very much like.
Now let's talk about what this projector has to offer, in terms of brightness, this projector has 400 lumen and is a 320 x 240 pixels native projector.
It supports utp 1920 x 1080 pixels of which ever content you wish to play through either USB, TF, AV or HDMI connections.
In you are after a cheap projector that can project a large enough image, this projector will do from 20″ or 60″ of image from 1.5 meters to the projector screen.
With a MHL cable for Android and Hdmi cable adapter for Ipad, you can play anything from virtually any device.
Now let's look at what the users have to say about this projector.
First thing that users commented on was the picture was blurry at first, but with some distance and settings adjustment the pictures will clear up.
Secondly, users mentioned how the picture is not the best, but is okay for the price and users were also impressed that the fan was quiet.
Lastly, users greatly appreciated the portability of this cheap projector under 50 dollars.
Pros & Cons
Small and portable
Low fan noise
Check out the  mini projector on Amazon
What to consider when buying a cheap projector under $50.
Price
Of course, this is the first thing that you must look at when buying a projector. As the article title suggests, readers will be after projectors that are less than $50, which is okay if you are on a tight budget, but.
As the saying goes, " Buy cheap, buy twice" is definitely true in my experience, it is worth the wait to buy mid ranged projector, from $150 upwards with good features and specs.
$50 projectors often have low brightness, contrast ratio etc.
If however, your final budget for buying a projector is $50 then do read on as we give you more tips.
Lumens
Lumens also known as brightness, is the measurement of how bright a light source or bulb emits. In this case, it is the projector that is emitting the brightness.
When hunting for a projector, the more the brightness the better, so obviously a 600 lumen projector will be more brighter than a 400 lumen one.
So do look for a projector with more lumen, the more the better.
Resolution
As resolution is the number of pixels in an image, all projectors have different resolutions, with some having 320×240 pixels, 800 x 480 pixels, 720P and 1080P.
The biggest you can have in projectors in terms of resolutions is 4K while there may be some 8K projectors that are used in cinemas.
In this price range, 320×240 pixels are common, some projector may claim that they are 1080P native, at this price it is impossible.
Projection distance 
Projection distance is also what you should consider, choose a projector with the farthest distance. This distance is the farthest possible distance from the projector to the screen.
It is typical for projectors at this price range to achieve a projection distance from 1 – 4 meters. Meaning 1 meter from the screen to 4 meters away from the screen.
Image size
Projection distance and image sizes directly affect each other, as the more you move away from the projector screen, the larger the image gets, in terms of image size, get the largest of image sizes.
It is typical for $50 projectors to be able to achieve from 24 to 60 inches in image size.
Sizes and Dimensions
Obviously you'd want a projector that's portable and and fits easily into your brief case, most projectors in this size range are that, portable and small.
While small and portable look for a light weight projector.
Built in battery
Look for a projector that has a built in battery, a built in battery will enable you to use the projector while it is not plugged into a power source which leads me to my next point.
Power Bank compatible
Some projectors can be used with a power bank, this is an extra set of power after the internal power runs out, which it useful if you are not near a power point or using it some where with no electricity.