As office workers, we spend 8 hours a day, five days a week in an office. It is important that we have good ergonomic, and comfortable office chairs, especially for us plus size people.
Not only will a  good office chair prevent fatigue and discomfort from endless hours of sitting, it also helps with productivity in our offices.
Bad office chair ergonomics will not only drain our energy, it may also take a toll on our bodies after a few years use.
In this article we will be looking at best office chair for plus size people, lucky for you, is that we will be looking at a number of them for you to pick from.
We will also be carefully scrutinizing their ergonomics, looks, comfort-ability and their weight capacity. This guide should help you pick an office chair that suits your size, is comfortable, and is a good buy overall.
With that said, an office chair weight capacity is most important since we are looking for an office chair for plus size men and women or beautiful curvy people with extra weight.
Breaking an office chair is the last thing on our minds! (laughing out loud).
So without further ado,
This Amazon Basics chair is an executive "boss" looking chair, with a weight capacity of 275 pounds, or 124 KG, so if you are plus size and weigh within these range, this office chair is definitely for you.
Chair height can be set from 41.34 to 45.08 inches high, so this chair extends about roughly 4 inches.
The armrests are 28″ from the ground when fully raised and are 8″ above the seat, so with the measurement of your desk height, you can determine if this office chair will slide in when not in use which is not a necessity though.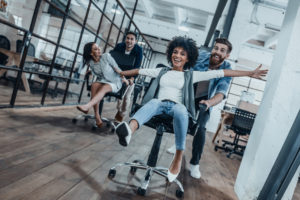 Top of this office chair seat pad is 20″ from the ground, it can adjusted to fit your desk opening.
For the tilting part, this chair has a knob that sets the angle which the chair tilts and can be locked to prevent further tilting, just like tilting, the AmazonBasic office chair also has a tension knob which sets the push-back tension of this executive chair.
Since plus sized people have huge thighs, the seat pad is 21 inches across, so that's plenty of space for a pair of legs (thighs) to fit comfortably.
Let's look at what people have to say about the AmazonBasic Executive chair
User opinion of the Amazon Basics High-Back, Leather Executive
This office chair has got positive reviews overall, there were some drawbacks however, firstly users mentioned how easy to assemble this chair was.
This chair (according to users) was easy to assemble even for non-mechanical or tech inclined people.
Secondly, this chair feels great for the price, although this office chair is made of imitation leather, with good up keep, (applying leather polish from time to time) and regular cleaning, this chair will last a long time.
So those were the opinions of users of this best office chair for plus size people.
Amazon Basics Leather Executive Chair – Pros & Cons
Good cushioning
Affordable
Office Chair, Ergonomics Mesh Chair Computer Chair Desk Chair High Back Chair w/Adjustable Headrest and Armrest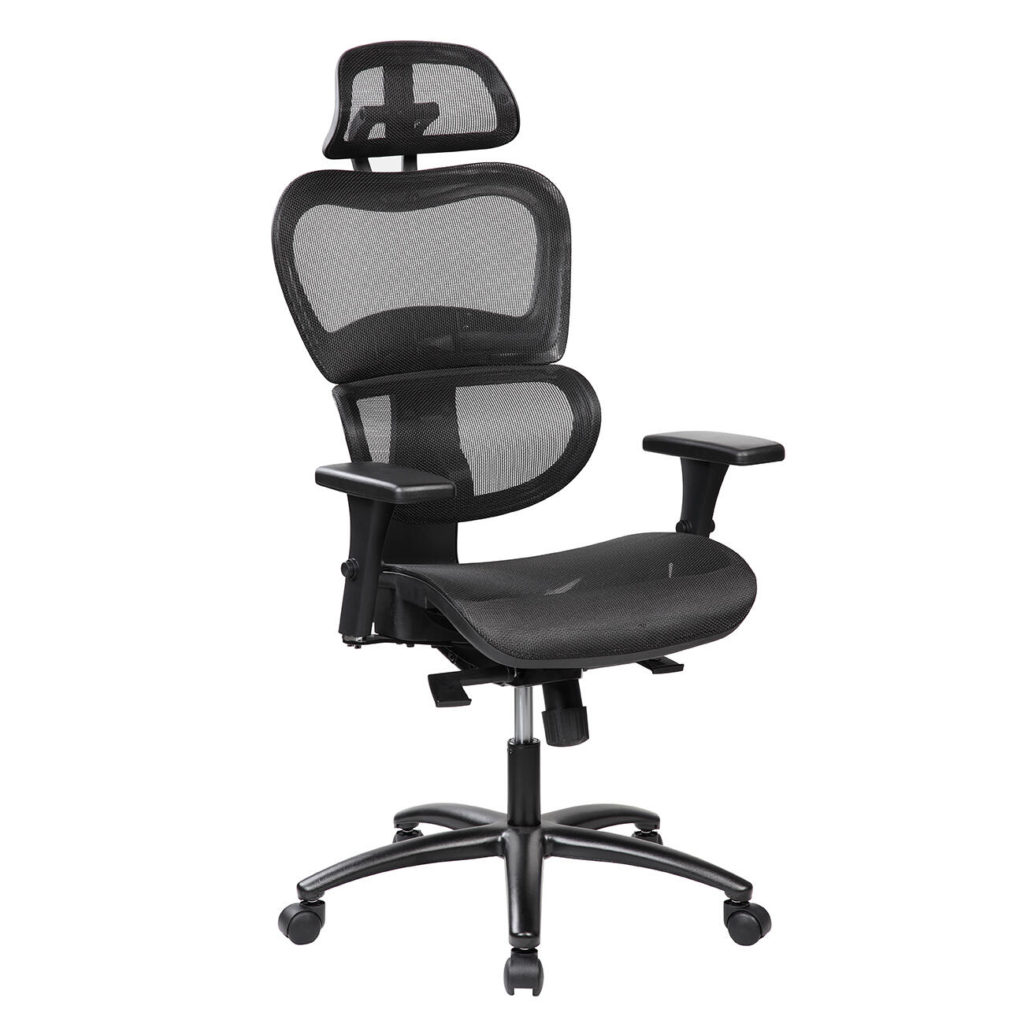 The ergonomics mesh office chair pictured above is one of the best chair for plus size women and men because it has a weight limit of up-to 300 lbs or 136 Kg which quite strong considering that most office chairs go only up-to 270lbs, so if you weigh above 100 Kg, then this office is for you.
The length across the seat is 19.5″, which would be your thigh width when they are put side by side.
From the seat pad to the top of the headrest is 13.5″, which is tall enough for plus size people, this mesh office seat also raises to about 4.5″.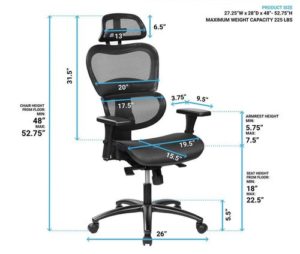 This office chair also has a meshed backrest as opposed to the traditional leather back which can get hot during hot weather.
Meshed backrests don't, this is the advantage of meshed back is that heat and moisture does not build up on the backrest, it evaporates, air also seeps through the mesh which keeps the back of the user cool at all times.
Another thing that must be pointed out, is that leather deteriorates quickly if not polished and taken care of over time.
What do people who have used this have to say about this chair?
User opinion on the Mesh office chair
As for user opinion on this office chair, users found this chair to be very easy to assemble and can be completed in 20-30 minutes from when it's first opened.
Another prevalent characteristic of this chair, is that it rolls quietly and nicely on carpets (has a pleasant feeling when rolling), so if noise is an issue with your previous office chairs, then try this Meshed office chair.
Ergonomics Mesh Computer Chair – Pros & Cons
Easy to install
Can take up to 300lbs
Breathable backrest
Broadback Mesh Backrest Office Chair Up to 300lbs, Black
Unlike the previous meshed back chair, this one is half spongy nylon and half meshed for the backrest, this allows for more comfort for the lower back.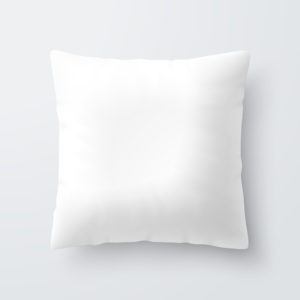 This computer office desk chair has a lot of width for the backrest and will comfortably rest your back without overheating your back as it is breathable.
Just add a cushion that you have at home and this could be your best office chair for plus size people like you.
Now let's talk dimensions.
From armrest to armrest it's 19.49″ across, while the back height is 25″, this should be enough space to rest plus size peoples back and lower body.
This office chair can support people with weight of up-to 300 lbs and is very sturdy. The craftsmanship done onto this chair is very good and it is also very affordable.
Let's hear what people have to say about this awesome office chair for plus size people.
User opinion on the Broadback Mesh office chair
One thing that users said about this office chair is that, this chair is really affordable for the quality that is has.
There were some drawbacks to this office chair however, one drawback mentioned by users however is that the seat padding is not too thick and is a bit hard, this can be solved by having an extra pillow of sponge to add more softness to the seating area.
Users were also amazed at how easy and quick this chair can be installed.
Broad Back Mesh Backrest Office Chair – Pros & Cons
Low priced
Can take up to 300lbs
Easy to assemble
Sadie Swivel Mid Back Mesh Task Chair without Arms – Ergonomic Computer/Office Chair (HVST101)

There's a lot that needs to be said about this chair, although it looks simple, it has many advantages over the others that have already been mentioned above.
One of the main advantages of this chair has over the others, is of it's size, it's small enough to be stored away and carried where ever it may need to go.
With it's small size, there is a sacrifice for comfort however, it is still a good chair but a little less comfy than the ones mentioned above.
The Sadie office chair although small in size, will take up-to 300 lbs or 136 kilos, most plus size people should fit into that weight category unless you belong to the really "heavy weight category".
This office chair can take any thigh width, so there's no need to worry about fitting into this chair.
Older versions of this chair has a spongy back, the Sadie office chair however, has meshed back which is breathable and allows air to pass through.
Now let's see what people have to say about this 4th best office chair for plus size people.
User opinion on the Sadie office chair
According to users, this office chair is super easy to put together because of it's simplicity and because of that, it's also cheap, like really cheap.
One drawback to this chair is that it's arm-less.
The Sadie office chair is also super affordable according to users.
Sadie Swivel Mid Back Mesh Task Chair – Pros & Cons
Super affordable
Fits all thigh size
Easy to install
What to look for in the best office chair for plus size people
Price
When buying an office chair or anything for that matter, the first thing to look at is price, set aside a good price point for the chair that you will be buying.
As the saying goes, "Buy cheap buy twice" is definitely true in our experience, a good sturdy chair that will last up-to a decade or two, be sure to aim high price wise,  as an office chair will be a  good investment as it will ensure productivity and good health of it's users.
Under $100 will get you a basic office chair, that should also be able to hold up for people your size (plus size people). $200 above will get you a decent one, above $300 to $500 range will get you a chair that makes you look like boss.
High price range office chairs have more padding or cushion, nice comfy armrest and a really tall back rest and most important of all, they will have more weight capacity.
Weight Capacity
The weight range for office chairs that are available on the market ranges from 200 pounds to 300 pounds, there are chairs that can withstand heavier people, they are rare.
So 200 to 300 pounds office chair, when converted to Kilograms is 90 to 136 KG, so plus size people can easily fit into one of these weight categories, unless you are in the heavy weight category then there are office chairs out there that can hold you.
Can you disregard the weight limit? Maybe by a few pounds, lets say 5 to 10 pounds, but the best thing is to stay in the weight category for safety reasons.
Swivel and roller Chairs
A swivel and office chair with rollers, especially if it can swing 360 degrees, will immensely help with your productivity as it can cut down time spent on standing, shifting chairs, shifting around to look for stuff.
Should you need something from another table, you'd simply roll your way to your neighbor or swing around when looking for your stapler.
Recline-able chair
Don't you wish you could just recline your chair half way, close yours eyes and take a nap on your comfortable office chair? That is only possible with recline-able office chairs.
A good office chair will have the ability to recline and locked at the preferred reclined angle as people have different chair recline angle preferences.
Recline-able chairs helps with the overall good ergonomics of the chair and posture and comfort-ability of the user.
Armrest or No Armrest
An armrest will rest your arms when you are idle at your desk.
An office chair with an armrest definitely helps with the comfort-ability of an office chairs, so do consider getting an office chair with an armrest.
Armrests are also not an essential, if you are tight on budget, you can do without an armrest.
Are you sitting comfortably?
Hope this best office chair for plus size people article helped you to make a more informed decision. A comfortable office chair is so important, when you consider hour many hours of your life you spend using them!