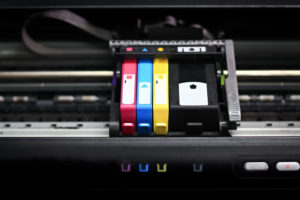 In this article, we will be scouting the printer market to look for "Which printers accept compatible cartridges", which is a question that's asked a lot by people.
Some if not most printers don't accept other printer cartridges except their own, we will also find out as to why this is so.
We will also be looking at how we can bypass error messages that the printers give when they refuse an ink cartridge especially when it's not manufactured by them (non OEM cartridges).
There's a saying or comparison that goes, "printer inks are more expensive than champagne or even blood" and that is the reality of today's printer and ink industry, these companies make more money on ink sales than on printers per say.
With all that said, it is important to understand the way these companies make money and also what they do to keep their businesses up and running by making money.
In an effort to keep generic inks from working on their printers (which destroys their businesses), companies have programmed their printers to only accept cartridges that are made by them.
Ink cartridges carry chips that have encoding which must be compatible with the printer in-order to work.
Generic ink cartridges also cannot use the same encoding as the original or OEM cartridge as this a copyright infringement would obviously result in a law-suit.
Some generics might now work because of the above reasons, good news for printer ink consumers, is that there are ways to bypass error messages and also we will be looking at generic printer cartridges that works and also which printers that can take these cartridges.
If you do get the right printer and compatible ink cartridges, you will save a lot of money on printing.
Below are some printers that will save you money as they accept compatible cartridges.
Check out a few cheap printers
It may also be worthwhile checking out the compatibility for printing with Chromebook, and Ipad.
Without further ado;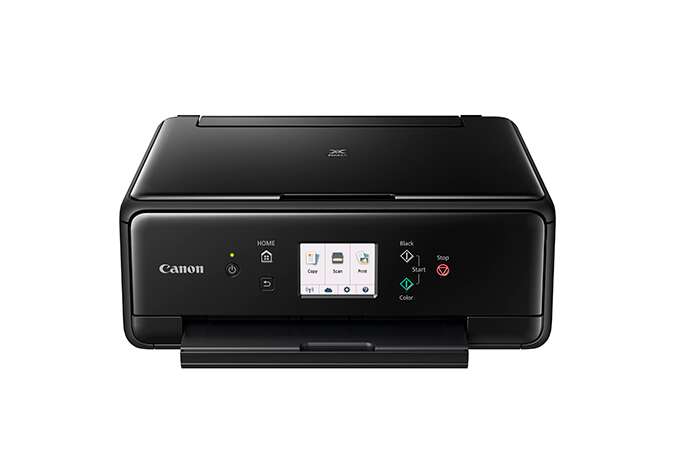 Check out the Canon TS6020 on Amazon
The canon TS6020 printer is compatible to use the E-Z Ink cartridges which is available on Amazon at a fraction of the cost of the original ink.
Now let's look at the TS6020 Canon printer in detail.
In terms of design the Canon TS6020 printer is quite large and has a "plasticky" feel to it's body.
This printer, the Canon TS6020 is a Print, Copy and scanner all built into this device. For connectivity, it has USB, SD card, NFC, ethernet and WIFI all built in. It has a paper capacity of 100 sheets ready to be printed.
The Canon TS6020 can print through AirPrint for Apple devices and also directly from the cloud, which adds convenience apart from cheap ink costs.
This printer has a 100 sheet tray capacity for normal A4 paper and is capable of printing passport sized photo 4" x 6" and also 5″ x 7″ with a capacity of 10 and 20 photo papers on it's individual trays.
A cool feature I like about this printer is the small screen which plays an animation when turned on. This printer is smooth and quiet when running.
This printer not only is cheap running when the OEM ink is used, it also can use compatible or generic inks like the E-Z Ink (TM) Compatible Ink Cartridge which can be purchased from Amazon.
Below is the compatible cartridge which it can use:
User opinion of the Canon TS6020
Positive feedback has been received about the TS6020 printer, in terms of speed, a regular black and white print does about 6 seconds a page and 20 seconds for prints with heavy graphics.
A 4 x 6 color photo takes 40 seconds and a 8 x 10 photo print takes this user 2 minutes and copying a black and white page takes about 10 seconds.
There were some drawback mentioned by some users however, firstly, is that the front cover needs to be kept open in-order to print and be used, this is a little inconvenience that this printer has, which is not really bad, considering that this printer performs well and also has ink cartridges which can be bought for less than $20.
It's performance, capability and cheap compatible ink makes this printer a good printer that accepts compatible printer cartridge.
Canon Compact TS6020 Pros & Cons
Heavy
Front cover has to be open to print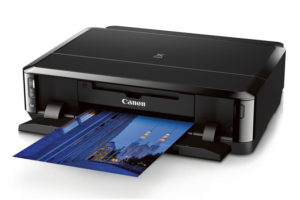 Check out the Canon IP7220 on Amazon
The Canon IP7220 is compatible with an ink called Arthur Imaging Compatible Ink Cartridge which can bought off of Amazon.com.
This printer does an exceptional black: 600 x 600 dpi and 9600 x 2400 dpi for photo resolution, which is really good.
5 ink system comes in this printer which can work independently of each other, if one runs out, the others can continue working without needing to have that one replaced, which has been a problem for a lot of printers.
Do note, that all printer cartridges has to be installed and not necessarily filled in-order for it to be able to print.
Also built in is Auto Duplex Printing which saves paper as it can print both sides, so not only is the ink cheap with the use of generic inks, it also saves paper.
Works with WIFI, USB and AirPrint for Apple users, the Canon IP7220 can hold 125 sheets of paper (25 sheets more than the Canon TS6020) and 20 of the  4″ x 6″ sized photo paper.
Let's look at what users have to say about the Canon IP7220 also below is the ink that is compatible with this printer.
User opinion of the Canon IP7220 printer
First thing that stood out among user opinions, is how the user manual of this printer is not well written and users will need to be patient when installing the Canon IP7220 printer.
The good side of this printer is that this printer prints a bit slow but is quiet, pretty and is compact.
Quality was mentioned by the users, superb photos came out this printer as was mentioned by users.
Lastly, users had no problem using generic compatible inks with the Canon 7220 printer.
Canon IP7220 Pros & Cons
Quality printing
Compact
Double Duplex (Saves paper)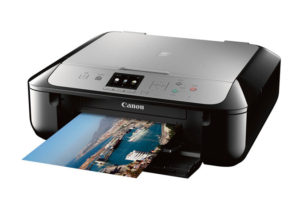 My personal favorite in terms of looks would be this one, the Canon MG5721, it has this "Ferrari" kind of look to it, as with it's good looks, this printer is also compatible with generic compatible printer cartridges.
The Canon MG5721 does Up to 4800 x 1200 dpi resolutions of coloured print and Up to 600 x 600 dpi for black prints. As for connection, it is capable of Wireless, Hi-Speed USB and Wireless Pictbridge.
When it comes to paper tray capacity, this printer can hold 100 Sheets Plain Paper and 20 Sheets of 4"x 6" Photo Paper.
The Canon MG5721 has 5 individual ink tanks and the printer runs when all tanks are at least 1/4 full.
Compatible ink cartridge:

User opinion:
With regards to user opinions, users liked the quality of the print and price however, there was one drawback as highlighted by the users, this is in regards to paper catch tray, the catch tray is too short to catch the paper properly.
Secondly, some users mentioned how it is a bit slow printer when it starts printing. It, however, does quality print jobs, third point that stood out is that users would need to be patient when first setting up the MG5721 printer.
So to counter this, users are advised to place the printer on a table to prevent this. Apart from that, this printer is also compatible with the E-Z Ink (TM) Compatible Ink Cartridge which is available for purchase at Amazon.com.
Canon MG5721 Pros & Cons
Badly written manual
A bit loud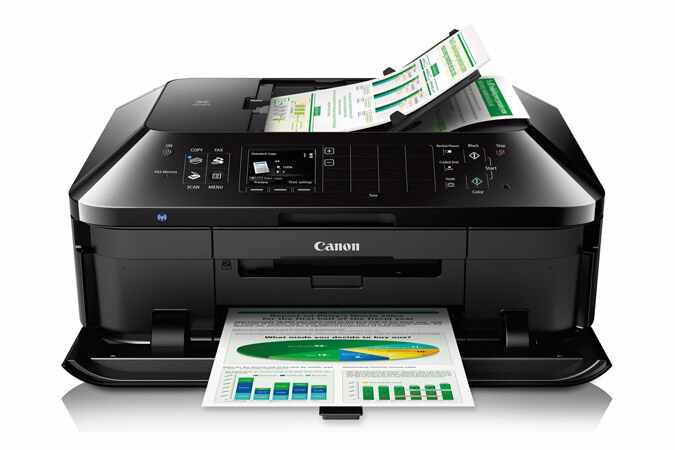 The MX922 Canon printer has been a great printer overall, it has received a fairly large amount of reviews, let's look at why this is so.
This printer (MX922) which is also compatible with generic cartridges which is available cheaply on Amazon, gives up-to 9600 x 2400 color dpi in  colored print resolution and up to 600 x 600 dpi for black.
For a 4 x 6 Borderless Photo, this printer takes 21 seconds to print and also has 6 individual cartridge tank system.
For connectivity, it can be connected to Wireless LAN (IEEE 802.11b/g/n), Ethernet USB 2.0 Hi-Speed, PictBridge (Wireless LAN) and also has the optional Bluetooth 2.0.
The reason why the Canon MX922 is popular on the market is because it is quite cheap for it's capability.
Let's see what users have to say about the MX922 Canon printer
Compatible ink cartridge
User opinion of the Canon MX922
With regards to user opinion and reviews, the Canon MX922, received an overwhelming amount of reviews, one thing that stood out among these, was that this printer is quite affordable and is compatible with generic brand cartridges.

The drawback to this printer mentioned by users, is that it is slow in start up and takes a few moments to actually start printing.
Second drawback to this one as mentioned by users is that it "eats" inks fast, that is why users opted for compatible ink cartridges as opposed to using OEM Canon cartridges.
Apart from the drawbacks, one thing that stood out, is that this printer prints double sided and was well liked by users for it's paper saving feature (double duplex printing).
This is the cheapest printer that accepts compatible cartridges.
Canon MX922 Pros & Cons
Double-Sided printing
Quality
Cheapest
Slow to start
A bit slow for high quality graphics
Things to consider when buying printers that accept compatible cartridges
Model
There are printer models that are made to accept compatible cartridges, however error messages can be bypassed if they appear when using a generic printer cartridges
Price
Main thing when picking a printer is to set aside a budget for your printer, determine how much you wanna spend and work your around the printer market with the printer price in mind.
Duplex or single sided
Most printers print single sides only and would require you to manually flip the paper, with the printers (Double duplex printers) it is possible for the printer to automatically print the other side of the paper without you having to take out the paper.
Paper tray capacity
Do take into consideration the capacity of the paper, the more the better, although this is nothing to worry about really, but if the printer is to be used in an office, than it is probably wise to choose a printer with a much bigger paper tray capacity.
Pages per minute
How fast a printer prints is also a big criteria which you must look at, for heavy printers like office than it probably a good idea to choose a larger faster printer than a student whom rarely prints.