Computer printers are common devices seen at homes and almost every office. Literally, printers make life so much easier, with that said, do read on to find some interesting facts and tips and also what you need to know about printer inks.
But despite the frequent use of a printer, we seldom think about how it satisfies our requirements.
Have you ever imagined how this magnificent device works its magic? How the Inkjet is called the inkjet and the how the laser printer uses laser to print things?
How the printer outputs whatever command we give it? Magical as it seems, we appear to take it for granted.
What are the  most common types of printer?
The two common modern printing methods are inkjet and laser . The inkjet is commonly known as the home printer because it is frequently used at homes. As it is less expensive, it caters for less photocopying requirements.
There are two main types of inkjets, thermal and piezoelectric. The two common ink cartridges that inkjets use are the black and tricolor which includes magenta, yellow and cyan. Inkjets sprays ink onto the page through thousands of tiny nozzles.
The laser printer which is office-based is a much faster and convenient type. Suited for its mass scale printing and photocopying, it is of course more expensive but with lesser long run printing costs.
So, what does a laser have to do with a laser printer?
Technically when a user sends printing instructions to a printer, the laser draws the image of the printed page onto the printer's main drum which with the toner transfers the image onto a piece of paper by pressing against it.
Laser printers use a fine powder called toner rather than a liquid ink. The printer comprises of a rotating drum, laser, toner hopper and drum, fuser, transfer belt and paper feeder. Laser printers work by manipulating electrical charges.
What you need to know about printer inks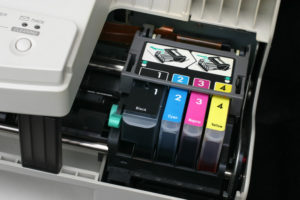 The ink cartridge (of Inkjets) can include either dye based or pigment-based ink. Dye-based inks are more economical with the ability of producing vibrant, true to life color prints and photos.
Pigmented-based ink which is water resistant produces a crisper finish and a quicker dry time.
Monochrome laser printers print with just a black toner cartridge whereas the color laser printers use four separate black, cyan, magenta, and yellow toner cartridges to produce print.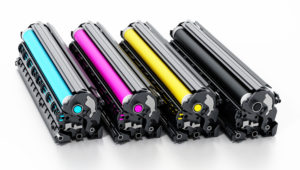 A toner cartridge works with drum to operate. It also produces cleaner results partly because toner doesn't get the page wet during the printing process. Although the laser toner is more expensive than the inkjet ink, the toner can be used for a longer period.
When to change ink
Have you ever encountered a moment when you excitingly print an assignment that you worked tirelessly on all night but produces documents with half the text missing? Frustrating as it seems, one thing's for sure, eventually any ink cartridge will get empty. Laser toner cartridges have a longer life than inkjet cartridges, but both will show signs of when it needs replacement. As with inks, printers need to be changed, check out our article on when to change your printer.
Ever thought about using an ink subscription service? (never run out of ink at the wrong time!)
Check out my HP Instant Ink review, to see my costs over 5 years!
Low ink warning
Many printers display indications of low ink or toner on their display screens in the form of a status indicator light or a series of flashlights. Some printers include software that triggers a pop-up notification on your monitor indicating that ink or toner level is low.
Streaking
A display of streaks on printed documents is also an indication of low ink. Streaks can either be horizontal or vertical.
Faded colors
Another indication of low ink or toner is faded colors. Colors may change all throughout with black becoming gray or green becoming blue.
Loss of other functions
Some all-in-one printers will disable significant features such as scanning and faxing as a symptom of low ink or toner.
Why are some inks more expensive?
Here's what you needs to know about printer inks, printer inks are well quite expensive. An inkjet ink costs around $13 to $75 per ounce and is even more expensive than branded champagne and perfume. It is literally one of the most expensive liquid in the world.
Did you know that when you buy ink, part of your consumer dollar is for Research and Development that is for the creation of better ink?
This is why branded inks especially are more costly than others.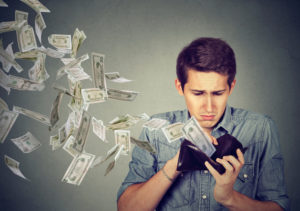 The 'razor and blade' business model is another concept that Printer manufacturers use constantly. Despite attracting customers by selling an item (in this case a printer) at a cheap rate, they charge a much higher price for consumables (what the item is dependent upon which is obviously ink).
This clever but disregardful approach is one that is catching to the consumer eye yet with a consequence. The fact of the matter is, if you purchase a cheap printer, expect to buy expensive ink.
In the long run you'll find that more of your money is spent on ink cartridges than on the maintenance of the printer itself.
Compatible or re-manufactured inks are cheaper. Look into purchasing these rather than the branded ones because they generally deliver the same results and will of course save you lots of money.
Tips on saving ink
Now that we have covered what you needs to know about printer inks and how expensive it is, here are some tips to help you save this precious liquid but moreover save your money.
Use Eco fonts

– Eco-font is a way to really save 50% of your ink compared to normal printing. It unnoticeable converts all the letters and characters of your document with lesser pixels, but the outcome looks almost as much as an exact print of a normal printout.

Check documents for mistakes

– Simple as it is, there is no harm in rechecking before printing. If you uncover mistakes after pushing print, then you'll have to print again.

Print in black and white whenever necessary

– Black inks are usually much cheaper than the colored ones.

Check the print preview option before you print

– Just check to see whether things look good and edit, adjust or resize if necessary, to avoid unnecessary reprint.

Don't panic if your printer reports that your ink or toner is empty

– Chances are that there are 10-30% lifetime left. Just continue printing until the printer stops but do not forget to replace your cartridge once it's empty.

Turn off your printer off using the On/Off switch on it, Before turning it off at the main

– If you turn off the mains before turning off the on/off switch, ink will dry out because the ink cartridge has not been capped. Always remember to turn off the printer switch first.
Printers maybe complicated at first for first time users. But despite the complexities of it's usage, printers simply make life so much easier. Now that's what you need to know about printer inks!