What is HP Instant Ink?
HP Instant Ink is a monthly subscription service that delivers Ink Cartridges to your door (or Toner), as and when required, so you never run out.
How much will it cost me over 5 years?
It will not be the same for everyone, as requirements are bound to be different from one person to another.
My average printing costs worked out at £0.04/page over 5 Years.
Total pages printed – 4064
Total cost – £176.91
To put this in perspective, you can check out the price of an HP printer ink cartridge, as used on my HP Envy 5540.
(and also, the Page Yield figures)
View the PDF version of the image below for a break down of my printing quantities, and costs involved. (up to just before the recent price changes)
(I could have reduced the amount spent, with greater vigilance!)
It depends on several variables.
How frequently you print
If you are selective or not, which pages from a document you need to print
The plan you are on in any particular month
Whether you need to purchase Additional Pages
How does an HP Instant Ink subscription Work?
HP Instant Ink uses high-volume cartridges, with pricing based on the number of printed pages.
Using WIFI connections and smart technology, they are able to ship out to the customer, only when required.
They can tell when you are running low, so you never run out! (Using clever computer/printer Tech-y stuff!)
Therefore, the number of cartridges used is optimized. Fewer shipments involves less packaging, which allows for savings to be passed on to you, the consumer.
The planet also benefits, as the airmiles and carbon footprint will be lower using this form of delivery.
Did you know that you can now get your printer paper delivered on subscription too!
Can you change your HP Instant Ink payment plan, once subscribed?
Yes. Instant Ink allows you to do this, to suit your changing printing requirements.
You are not locked into the plan and are free to cancel if it no longer suits your requirements.
As you can see from the graph above, my printing pattern changes quite a lot, from month to month. You can hover/click to view the number of printed pages for a particular month. I find it very useful to have that flexibility in the subscription, as this makes it more cost effective.
What HP Instant Ink plans are available?
Plans are available for both Ink, and Toner. For each, there are 5 plans, which can be changed monthly if required.
There is never a need to be paying out more than is necessary.
Please note, these new prices were introduced in 2022 after the period shown in the PDF/graph.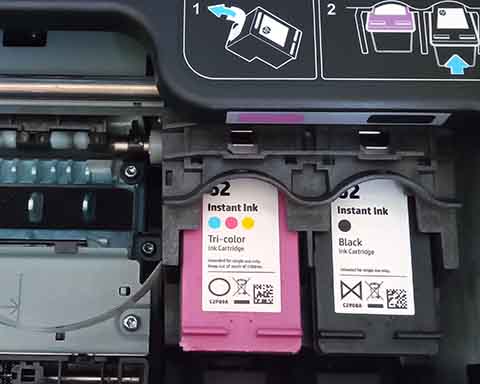 Ink Plans
Light – £0.99 10 pages/month (£0.099/page)
Occasional – £2.99 50 pages/month (£0.06/page)
Moderate – £4.49 100 pages/month (£0.045/page)
Frequent – £9.99 300 pages/month (£0.033/page)
Business – £22.49 700 pages/month (£0.032/page)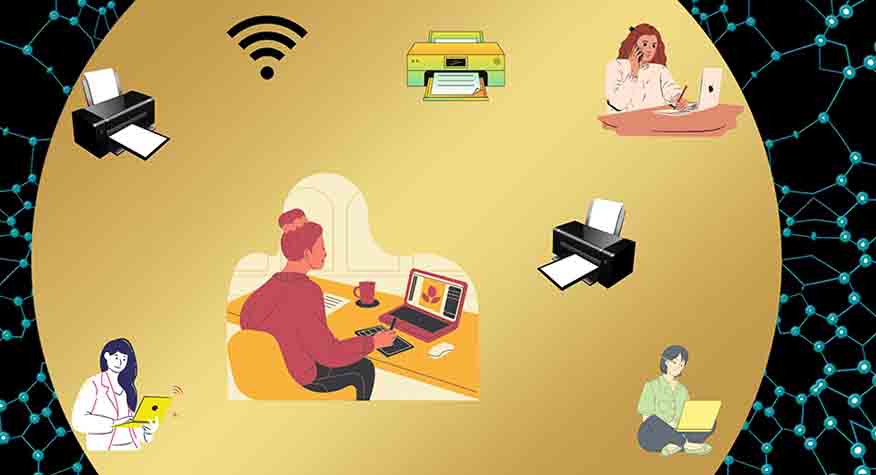 Toner Plans
£1.99 50 pages/month (£0.04/page)
£3.49 100 pages/month (£0.035/page)
£12.99 400 pages/month (£0.032/page)
£17.99 800 pages/month (£0.022/page)
£22.99 1500 pages/month (£0.015/page)
How can I tell how many pages are left on my HP Instant Ink account?
This is done via a very easy-to-use dashboard. In addition to this, you'll receive monthly statements via email, so you can easily keep you on top of things!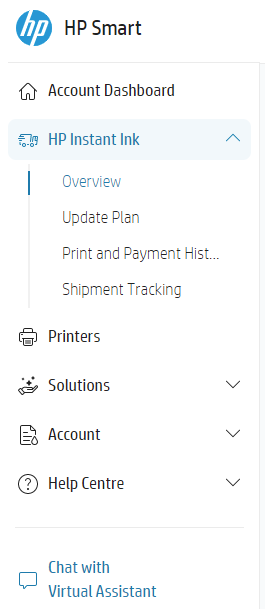 When you are a signed up subscriber, you have access to your own HP instant ink dashboard.
This is where you can check on:
the status of your plan pages
Update your plan
View your payment history
Track your shipments
Update your printer (if you change one)
Troubleshoot
and access support
What if I don't use all my pages?
 Great news! If you don't use all your pages for the month, they can be rolled over to the next month. 🙂
The maximum roll-over will depend on your plan. See the Terms of Service for the details.
Optimization hack – if you know you have roll over pages left and expect to print less the following period, you may be able to use a lower plan for the following month.
Do all HP printers use Instant Ink?
Can I still use my printer If I cancel HP Instant Ink?
 Please be aware that if you cancel your subscription to Instant Ink, you will no longer be able to use the ink supplied.
HP is clear on this, that you are buying the right to print, not the actual ink, or toner. You will need to remove the instant ink cartridges, and replace with ink purchased outside of the plan.
Is it cheaper to use HP Instant Ink?
How can you save money on printing?
Be aware that one single character on a page counts as a page! Ensure you only print the pages you actually want.
Make good use of roll-over pages
Do not accidentally go over your plan pages, if you can avoid it. Timing may come into this, if you are close to the end of the month.
Ensure you proof-read anything you've produced, to ensure you don't print pages that have mistakes.
So, Is HP Instant Ink worth it?
Well, maybe! It depends on your own particular circumstances.
My average printing cost is £0.04/page over 5 Years. For me, YES, it is worth it, but it pays to be vigilant to minimize the outgoings. I think I'd have spent a lot more going out and buying replacement ink the usual way. Those things aren't cheap!
However, always ensure you are on the right plan for your printing requirements, at any time.
I also love the fact that I am never caught out without ink, and unable to print! (I have never run out, since using HP Instant Ink)
The beauty of this plan is, that it is irrelevant whether the printing is color or monochrome. And so, cost is the same. This means you can print a color document or photo for the same price as a standard black & white text-only document.
Find the right HP Instant Ink plan, here!
Overall, I am very happy with this service, and hope you found this HP Instant Ink review helpful in making your decision as to whether a monthly printer ink plan could work for you.
If I can answer any of your queries regarding this review, please drop a comment below. Thanks. 🙂