In this article we will be looking at the best portable projectors for camping trips.
Memories are created during camps, the bond fire, the singing, eating marshmallows, watching movies on your portable projectors.
Although watching movies during camping trips is not something that was traditionally done back in the days, it however, adds more excitement to the trip, a modern kind of camping.
Whether it be camping in the woods, mountains or caravan parks, a projector does add more something extra special to our camping trips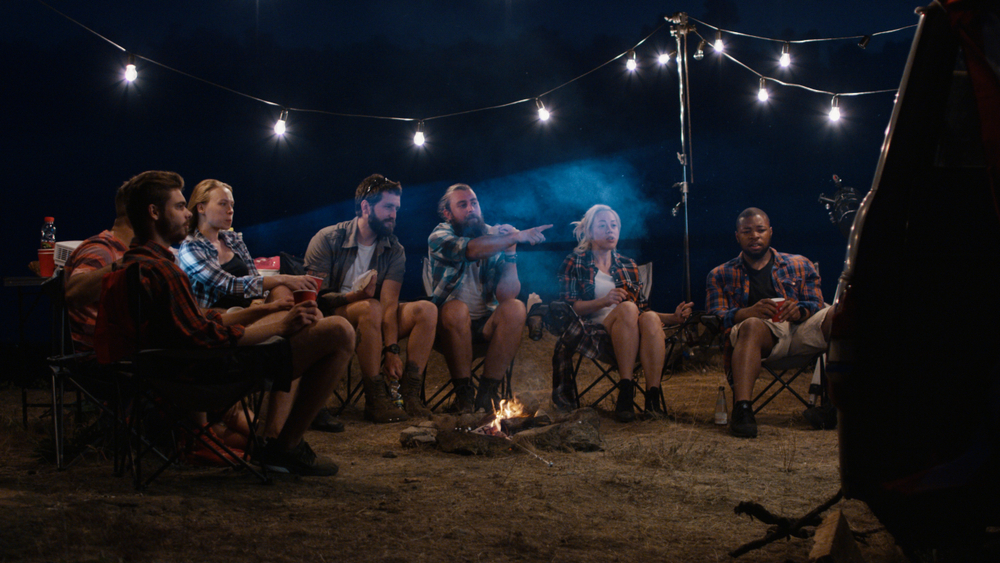 Projector buying tip for camping [summarized] Get a projector with long lasting battery time, say 2-3hrs, most projectors can be plugged into a powerbank.
Look for a huge image size projector [image size is the length of the image the projector can give]
AKASO Mini Projector Portable WiFi, HDMI, USB, Micro SD, 3.5mm Audio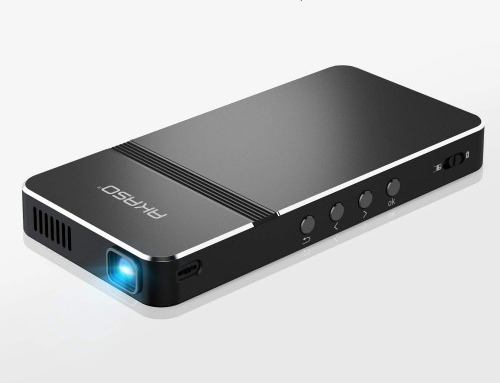 Click here to check out the Akaso Portable projector on Amazon
Key features
50 ANSI lumens
1080p resolution (manufacturer claim)
1.5hrs to 2 hrs
Images of upto 120″
DLP projector
USB, HDMI, AV, and Micro SD port
---
This projector has to be one of the best pico portable projector out there on the market and is not only the best for camping, but the best for cookie decorating, tracing images and what not.
The Akaso pico projector has 50 ANSI lumens, which should be enough to be used at night during a camp and has a battery that lasts up-to one and a half hours to two hours on a single charge and works with a powerbank plugged on.
This projector claims 1080p, which I doubt, to my opinion, it's a 720p projector.
With 120 inches of images that's nearly double the biggest TV screen we have at home.
Movies and music can be stored on a USB flash drive or SD card and plugged straight into this pico projector and played back.
The Akaso Pico projector is in fact a powerbank itself, it can charge your phone incase of an emergency.
There's only one drawback to this projector is that the images cannot flipped upside down, secondly, in a camping environment, this pico projector may need external speakers for the best performance.
Pros
Portable
Light weight
Easy to use
Cons
Cannot be mounted upside down
Camping tip #1
Projectors, mobile phones and laptops can be powered with portable power stations which is a bigger version of power banks. They can last days and can also be plugged hooked up with solar panels
---
Anker Nebula Capsule, Smart Wi-Fi Mini Projector, Black, 100 ANSI Lumen Portable Projector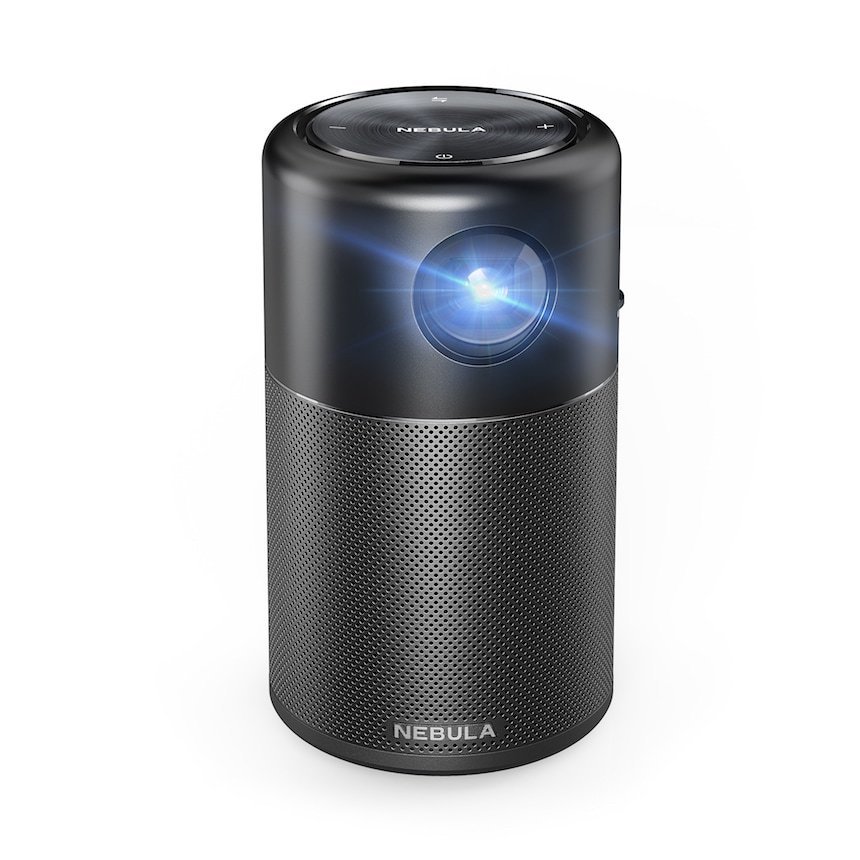 Click here to check out the Anker Nebula Projector on Amazon
Key features
100 ANSI Lumen
Runs Android 7.1
100″ images
800 x 480p
4 hours video playtime / 30 hours music playtime
Bluetooth and Wifi
The Anker projector is has the longest playtime of 4hrs compared to the average 2hrs which other projectors are capable of.
Second projector on the "best portable projectors for camping trips" is from Anker.
This Anker Nebula projector which runs on Android and will do up-to 100 inches of images.
This projector looks more like a bluetooth speaker than an actual projector, this is because of the 360 degrees speakers that it has which is located on the bottom half of this cylindrical projector.
In terms of battery life, this projector can go up-to 4 hrs when running on it's inbuilt battery, otherwise, it can plugged into a powerbank.
Yes, you read that right, 4 hours of playtime, that's enough to finish two movies on a single charge.
A unique feature of this portable projector, is that, it is a powerbank itself and is able to charge other devices in an emergency, which should also be a handy device in times of an emergency.
The Anker Nebula portable projector also has Wifi and bluetooth capability, for wireless transmission using an app, from an Android or IOS phone to the projector.
Pros
Portable
Light Weight
Longest battery life
Camping Tip #2
For optimum performance of projectors, use a projector screens as it maximizes the brightness of the images
VANKYO Burger 101 Pico Projector, Rechargeable DLP Wireless Mini Projector Supports 1080P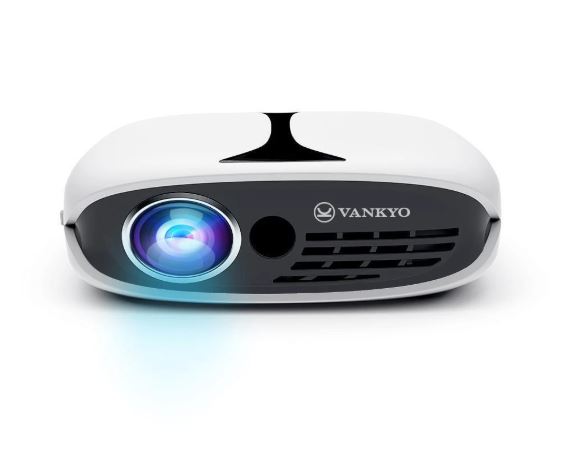 Click here to check out the Vankyo Burger 101 projector
Key Features
800x480p
2600 Lux
30″-110″ image size
5200 MAh Li-ion battery
HDMI, Wireless, USB
The Vankyo burger 101 is a modern looking portable projector that suits camping well because of it's 5200mAh Lithium battery that will give approximately 3hrs of play time.
Not only does this projector have a good battery life, it is also aesthetically pleasing, or cute in other words.
The Vankyo burger 101, is a 800×480 pixels projector. ( Most projectors in the range are about 800 x 480).
As for image size, this projector will give 30″-110″ pictures at 2.62ft to 9.84ft. At 110 inches that's enough for an outdoor movies at night while camping.
Pros
Quiet Fan
Small and light
Vamvo Ultra Mini Portable Projector 1080p Supported HD DLP LED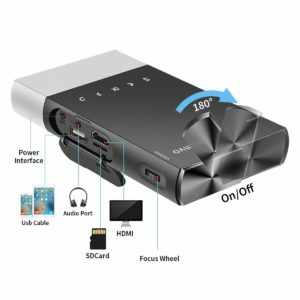 Click here to check out the Vamvo Ultra Mini projector on Amazon
Key features
100 ANSI lumens
5200mAh battery
800 x 480 pixels
USB, HDMI, TF, Micro SD
up-to 130 inches image size
The Vamvo portable projector, looks quite similar to the Akaso pico projector, except that this projector has a lens cover which protects the lens from damages.
With 100 Ansi Lumens, the Vamvo works well at night time, a very good projector for outdoor movies during camps, as it runs on it's 5200 mAh built in battery.
This projector can give up-to 130 inches of image from 5 feet away, which can fit a large size screen.
This projector runs smooth and quiet but may need external speakers to boost movie sounds for a more rich and enjoyable movie session.
Pros
Small
Light weight
Quiet fan
What to look for in a projector for camping trips
Has a built in battery
This is obviously one of the biggest feature of a projector that will be useful since there won't be any electricity out in the woods while out camping.
Although electricity is not accessible, you can however take a power pack , generator or powerbank to sustain you during the trips for projector, phone and charging of other electronics.
Battery operated portable projectors have built in batteries with a capacity of around 5000mAh, this is enough to last 2 to 3 hours and will need to be plugged in.
A lot of these projectors can run while being charged from a powerbank.
The beauty of portable battery powered projectors is that, it can be used cord free, which is less hassle-ly.
Brightness (Lumens)
On portable portable projectors, you are limited when it comes to brightness, but it should be sufficient for night time use.
It is common for portable projectors to have 40-50 lumens, which should be okay provided that it is used in a dark environment.
As a rule of thumb, the brighter the projector the better, as the images will be more vivid and bright.
Portability
Portability, obviously since you are reading this, a portable projector is what you are looking for, it is also recommended that you look for portable projectors.
Portable projectors save space, weight and lessens the burden of the owner when it is being moved around. They also give owners much more flexibility in terms of mounting and areas where it can be used. Bulky projectors don't have this freedom
Price
Another big point or factor when getting or buying a projector is in the price of the projector.
With your budget in mind, look for what will fit that amount, the more costly the projector, the more durable, long lasting and features it will have. The saying "buy cheap, buy twice" comes to mind. This saying applies in this case.