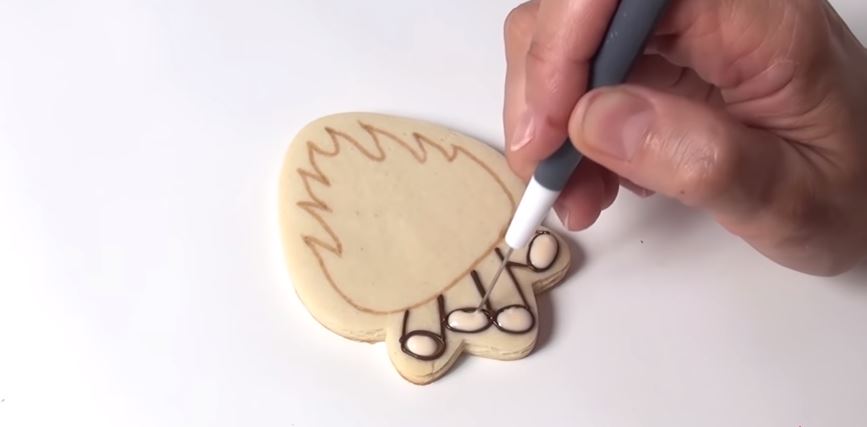 If you are looking for the best cake decorating projector or wondering how a projector is used for cookie decorating, then read on;
Are you a cookie decorator? Or a patisserie chef or even a cake decorator, then you are at the right place.
Here's how the projector is going be used for cookie decorating. The projector will project the design onto the cookie before you design onto it. Kind of like a stencil or like tracing a design onto a paper.
You can also use the projector for movies and what not, but the main use of this projector will be for cookie decorating.
At the end of this article is a little guide I have put together for things you must look for in a projector for cookie decorating.
Having the right projector will ensure that your cookies are designed with ease and convenience through the help of a projector.
Here are some things you must look for in a projector for cookie decorating (summarized)
Here are a list of kopykake projector alternatives
Look for a projector that is
Portable
Uses battery
Affordable with your budget
Light weight and easy to use
Usable with a tripod
Bright enough
*Quick Tip!
For convenience sake, use a magic arm.  A magic arm is a projector holder similar to a tripod and is much more flexible, it can be clamped to the side of the table that you work on have the projector mounted onto it.
Magic arms, can be swiveled around to reach anywhere on the table. This allows you to bring the projector to any angle that you want to decorate cookies on
You can then just leave your projector in place or push it to the side while you take a rest!. Do check out the magic arm on Amazon
| | | | |
| --- | --- | --- | --- |
| | | | |
| | | | |
| | | | |
| | | | |
| | | | |
| SD card, USB2.0 Type-A, HDMI | | USB, MicroSD, Composite A/V  | |
| | | | |
| | | | |
The Vamvo projector, is as long as a marker pen (length wise), the Vamvo mini portable projector is slightly thicker than the Akaso projector by 0.3 of an inch and comes equipped with a 5200mAh of power pack (built in).
It comes with a slide that covers the lens from dirt and dust.
This projector also has a screw hole which can screwed onto a tripod stand, which comes together with it.
The Vamvo mini projector has 5200mAh capacity of battery (as mentioned above) which allows for two hours of play time, which should be sufficient for maybe up-to two trays of cookies. If you are a fast worker you can maybe do up-to three trays in two hours, who knows.
With that battery capacity, is also gives out 1800 of lumens, for a projector with a small form factor as the Vamvo projector, that's really impressive.
However, comes advertised that it is 1080p capable, never the less, even with 480p is sufficient for cookie decorating.
You can load your cookie designs from a USB device or an SD card.
Brightness:  1800 lumens
Resolutions: 1920 x 180
Contrast:
Input: USB, SD card, HDMI
Battery: 5200mAh
People liked the sleek design of this projector, however some users did not like that this projector has no wireless capability.
Also of users noticed how the fan is super quiet, should help you in cookie decorating as it won't distract you.
Some users, however, said that the Vamvo mini projector also feels kind of "plasticky", which is ok for the price that it is being sold for.
VAMVO ULTRA MINI Pros & Cons
Quick boot time
Quality image
Lightweight
Does not come with keystone correction
Low speaker volume
This is a cell phone sized mini projector that can be handheld and can also be put inside your pockets and be taken wherever you go.
The Pico Akaso portable projector is battery powered and can be charged 2-3 hours before use.
The one good thing about battery powered projectors is that you can be designing your cookies anywhere, outside, in the kitchen, or at the park, you will always have your projector powered (through the battery that is).
Just connect your ipad or android tablet to it (using a connector), load up your designs using your graphics apps, power up your projector and you are good to go.
With 4000mAh of battery and 50 ANSI Lumens on this projector, the Akaso mini projector can run for 2-hours on a full charge. It is bright enough, and also gives you more than enough time to finish two trays of cookie designs on a single charge.
The Akaso portable projector can also be operated wirelessly which is a plus for convenience.
This projector can blow from 30 inches to 100 inches of images, that is more than enough to watch a movie let alone decorate your cookies.
With all that mentioned, all that's left is a tablet or phone and a tripod. The Akaso portable projector is by far the best projector for cookie decorating.
Brightness: 50 ANSI Lumens
Resolutions: 1080P HD DLP
Contrast: 2000:1
Input: SD card, HDMI, USB 2.0
Battery powered: Yes
After using the Akaso portable projector, users had said that the Akaso projector is easy to carry and use because of its portability.
Projector feels "quality" as the materials that it is built on is sturdy.
AKASO MINI Pros & Cons
Easy to carry
Lightweight
Easy to use
High quality image
This next projector is from Vankyo. Vankyo is a popular projector manufacturer this being one of their pico projector.
The Vankyo buger 101 is square in shape and fits in your palm, Vankyo burger 101, looks stylish and modern and has alot features that surpasses the rest of the projectors mentioned in this review article.
For start, it has a 5200mAh built in battery pack which give you up-to two hours of running time at full brightness.
Secondly, it has an auto-keystone feature, this projector will right itself when placed wrong side up or tilted(ly).
To further distinguish it from the rest, it has wifi capability which other projectors lack at this day and age.The Vankyo burger 101 however, does not have a zoom function.
Another feature that this projector has is its support for 3d experience, meaning that you can also watch 3d movies with this provided that you have glasses for it.
Biggest complaint about this product from users is the sound, which is not the best in the world (the volume is low).
In the reviews of other projectors, users had complained of how other projectors had a "plasticky" feel to their projector, this projector is the opposite, it is quite solid and sturdy.
Input: HDMI, USB
Output: HDMI and WIFI
Resolutions: 1920×1080
Contrast Ratio: 1000:1
VANKYO BURGER 101 Pros & Cons
Bright clear image
Small
Light
WiFi capable
The Aaxa micro video projector is white in color and comes with 25 lumens of brightness at 720p.
The process of cooking decorating does not really need a projector that's really bright, 25 lumens should be enough.
The Aaxa projector is a bit cheaper with a little less lumens, that's fine considering that it will be primarily used for cookie decorating.
This projector is battery powered and can be charged using an android usb charger (USB 2.0).
The Aaxa projector gives you 80 minutes of designing pleasure in your kitchens and can give out a 60-inch sized image projection.
Now to be honest, you don't need the best of the best when it comes to cookie decorating, so price wise, the micro projector is a good fit for budget minded cookie decorators. Aaxa projector
Brightness: 25 Lumens
Resolutions: 720p (1280×720)
Contrast: 1000:1
Input: SD card, Micro USB
Battery powered: Yes
Users liked this projector because of its simplicity, all you need is a USB device with your design images stored inside, just open the image and design away.
However, a lot of users of this product said that you will need extra connectors when using this projector, this is mostly with Apple products.
AAXA PICO KP-101-01 Pros & Cons
Small and portable
Easy to use
Lightweight
Sound quality is not good
The miroir micro fits in your pocket with ease it is power bank shape and sized
Speaking of power banks, the Miroir projector is also a power out device, meaning that you can charge your phone with it using a regular USB cable
Most of the projectors reviewed in this article are DLP projectors while this one is a LED projector, LED based projectors have their own advantages over DLP, however they are less noisy and are cool.
The Miroir micro projector is bright and has a native resolution of 640 x 360, which again is more than enough for cookie designing, since a cookie can take up an area of 20 x 20 cm.
The Miroir micro projector has a running time of two hours on a single charge, which obviously is more than enough for cookie decorating.
Specs
Input: HDMI
Resolutions: 640 x 360
Contrast Ratio:
A lot of users who bought this projector was quite satisfied with it and most people used it for cookie designing.
Users of this projector are happy with the brightness for the price of this projector.
MIROIR MICRO M45 Pros & Cons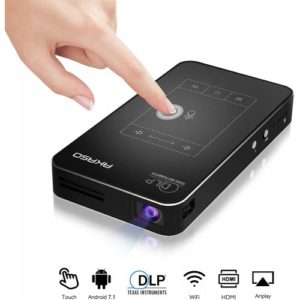 The Akaso WT50 supports up-to 1080 pixels, the unique feature of this projector that all the others don't have is the touch pad that it has on the top.
With the Android Operating system that it has, the touchpad, like a laptop touch pad, controls the cursor that that is used to browse the menu, files, pictures that will be on the projector.
Since it comes with an Android Operating system, Hulu and Netflix app is preinstalled and is for movies (maybe after a long decoration session).
For image input onto the projector, it has a USB, HDMI and SD which can have a memory card or USB with your designs in it, convenient and easy.
The WT50 Akaso does up-to 120″ of images, so it's not a worry for cookie decorators looking for a projector since a cookie may be up-to 6 to 10 inches across.
First drawback to this projector according to users, is how the Airplay which is for wireless transmission for Mac gadgets is not the best in the world, may need a little bit of patience, maybe in the future, Akaso will roll out an update to help it function properly.
Bluetooth connectivity was alright according to users, bluetooth mouse and keyboard can be used with ease on this projector.
AKASO WT50 Pros & Cons
Portable
Lightweight
Easy to use
Netflix, Youtube not working properly
Speaker volume a bit low
 If you are really tight on budget, then this is the projector for you.
This projector is surprisingly cheap; it is half the price of the projectors mentioned in this article with some drawbacks.
The Artlii Pico projector is not the best projector man has ever made, but with a bit of improvising on your part, this projector can be ideal for cookie decorating.
The Artii Pico projector is cell phone sized and is 600 lumens bright with a resolution of 340 x 240 and can give you a screen size of up-to 60 inches.
Furthermore, Artii pico projector has a low fan noise that will help with your concentration during your decoration.
Specs
Input:  HDMI, USB, Micro SD Card
Resolutions: 320×240
Contrast Ratio:  800:1
Users had said that this projector will need a darker room for optimum performance, if you can improvise while using this, then for half the price of the other projectors, this projector can be great for cookie decorations
PICO Artlii Pros & Cons
(Not bright) Needs a dull environment for optimum performance
What should you look for in the best projector for cookie decorating?
Portability
Most important factor is portability, you would not want a heavy large projector that will be a burden to move around during your cookie projection.
Light weight
Weight should be taken into consideration, as this is one of the main criteria since you would not want a heavy projector.
A heavy projector will be hard to move around when you are decorating, a light weight projector will easily be moved around to fit the cookie when you are designing and also light projectors can easily be held by a tripod.
Projectors that are being recommended above are slightly lighter than an Android cell phone (weighs 4.8oz).
Price
Since our projectors will be primarily for cookie decorating, we will not need the best projector the world has ever seen but a cheap one will do, so long as it has the features below.
Battery powered
For convenience sake, a battery powered projector will be convenient to use for decorating or designing as you would need it to be plugged into the power outlet to be charged.
That means, that you can bake and design anywhere, at the back yard, at the park, or wherever as it doesn't need power in-order to be used.
Usable with a tripod
 This is another big factor that you should look for in a projector for cookie decorating.
The projector will be mounted onto a tripod – a flexible tripod. When the decoration takes places, all you'd do is pull the projector around in-order to point straight onto the cookie, if you get what I mean.
There are universal flexible tripods that can be used for all portable projectors.
Has a small form factor
With a small projector, you can mount it on a tripod and move it around however you like without stressing the tripod with weight.
Apps to get for your cookie decorating
Phonto app and Artist's Eye are the apps to get for decorating your cookies as it has fonts and editing features useful for your decorations
Tips for cookie decorating using a projector
Download your images from google use the Artist Eye app to edit and draw your images, using the Phonto app from the play store, apply fonts to your designs.
Save your designs onto a USB or memory card.
Load it onto your projector and start designing your cookie with an edible marker or cream.
For optimum brightness of your projectors, make sure that your kitchen is dull. Close the blinds, or windows of the kitchen, and switch off the light.
If your projector does not come with a tripod stand, you can buy a universal tripod stand for phones and tablets which can be also used for projectors. So now you have a variety of options for decorating your cookies. Enjoy!