To help you find the best projector under $400,$300,$200 and $100 we have produced this guide, plus tips/tricks for finding a great projector on a budget!
Below is a list of affordable projectors under $400 dollars. For whatever use of the projector that you have in mind, here are some recommended best cheap projectors to buy.
At the bottom of this page you can find tips/tricks, and also what look for when looking for a projector.
Links on these articles leads to Amazon, WeaveMyMat gets a small cut for purchases that readers may make at no extra cost to you readers/buyers.
WeaveMyMat cannot guarantee that the projectors below are under $400 (no more than $400), do click on the "buy" link to confirm the prices
This projector is kind of like an all-rounder because it has nearly all the features and connection that one might need.
It has bluetooth and Wifi capability, at this day and age, bluetooth and Wifi is a must have for ease of connectivity and use.
It is a native 1080P resolutions projector and supports higher resolutions. One feature that makes this projector stand out is how it is Miracast capable, meaning that you can connect to it with Apple Wifi, if you are an Apple user, you would find this a plus.
Has a contrast of 6500:1,with 4600 lumens which I doubt (the lumens part), but it must have alot of lumen as it is bright for daylight use.
Users who had used this projector very well liked the performance of this projector as it performs well in daylight, however there were a few things that users find was a "compromise" for this affordable projector.
Users had said that although the projector is bright, it has an audible fan noise, but not enough to drown out your movies, secondly, the internal speaker is not the best, so if you are planning to get this projector, do invest in a good pair of speakers.
Bright for daylight
Crisp images
This cheap projector has 1920*1200 of resolution which is really close to being a HD projector with  5000:1 of contrast
As for projection dstance, this one give an image of  50 to 200 Inch from a projector distance of 4.58ft-20.41ft.
This projector gives nice images, watching sports on this is fantastic. This projector works with Airplay and can stream from Apple devices.
The projector in question has an Android operating system and can mirror Apple devices.
This projector also has loud speakers and will do fine without external speakers.
Users had said that this projector give good pictures, might not be the Highest of definition, but performs well for the price.
This projector has good internal speakers and won't be needing a secondary speakers and when it's running, the fan is quiet.
Check out this bluetooth/wifi projector on Amazon
This Aaxa projector is a native 1280×800 pico projector, 500 Lumens, it is portable and can also be handheld, runs on battery for an hour, it can also be plugged in while in use that's why this projector is one of the best cheap projector.
It is worth mentioning this projector, because it has gotten positive feedback from owners of this projectors for it's portability, small enough to fit in your pocket, while having the capability of projecting on a screen size of 120″.
With a contrast of 2000:1, this projector is popular for cookie decorating, image tracing and designing in general as it can be mounted on a tripod and also run on batteries.
Light weight and can be taken everywhere.
Users of this projector, mentioned how this projector is portable, light weight, good crispy image, good for cookie decorating.
The only drawback to this projector mentioned by users is how the projector's fan is audible.
Check out the AAXA Technologies P300 Pico Projector on Amazon
The Viewsonic PA503S has gotten really positive feedback from users and is one of the popular projector on the market.
In my personal opinion, this projector should be more expensive than it is. The Viewsonic PA503S is a 800 x 600 native resolution projector and has 3600 lumens (for sure this projector is bright).
In terms of contrast ratio this projector has 22,000:1 which is awesomely high, meaning that it gives a dark black and high bright giving it a rich and crispy look to the pictures.
This projector is the best for daylight viewing I can confidently say. When using this projector for PowerPoint presentation, this projector shows texts clearly.
This projector is popular for it's ability to be used during daylight, it is by far the best projector for daylight viewing, when compared to other projectors, this projector has a really high contrast while really bright, but there was is a drawback to this projector according to users.
Major drawback to this projector is that is has a low audio volume, apart from that, this projector is an overall winner.
Check out the ViewSOnic PA503S on Amazon
Mini Projector, Vamvo Ultra Mini Portable Projector 1080p Supported HD DLP LED Rechargeable Pico Projector

 
The Vamvo Mini Projector is mobile phone or powerbank sized and shaped projector, small and portable and fits in your pocket. This mini projector is a native 800 x 480 projector with a projection distance of 1.6-10ft.
This projector can also runs on a 5200mAh built in battery, which is very useful for use outdoors. This projector also averages 2 hours on battery.
This Vamvo mini projector is one of the popular projector in the Mini projector categories.
With 100 ANSI lumens and a contrast rating 1000:1 this projector if perfect for cookie decorating, image tracing.
Users of this projector has said how they found this projector to be portable, light weight, bright for it;s size and also emits no fan noise.
Overall they have found this projector to be nearly perfect.
Lightweight
Portable
No fan noise
Check out the Vamvo Mini projector on Amazon 
When out looking for projectors, keep a look out for the Vankyo brand name, Vankyo makes great projectors.
The Vankyo V630 is a native 1920 x 1080P which I doubt, it maybe 720P at best, regardless of the it's native resolution, this projector is great at this price.
It has a contrast ratio of 5000:1 and gives a picture size of 300″ from 5.15ft-30.18ft, good enough for movies, presentations or whatever use that you have in mind.
This projector however, has 6500Lux, lux is a little lesser with the room a little dull, the V630 is also a good choice.
From users experience, the Vankyo V630 is a good projector, good images, just needs to have the curtains and blinds closed. Users are also surprised at how quiet this projector seems, for it's low fan noise this projector is good for office settings
Works better in a dull room
The Vankyo burger 101 is also my personal favorite in terms of looks, performance and user satisfaction.
In terms of looks, the Vankyo Burger 101 looks modern and stylish.
The Vankyo burger 101, also gives out 2600 Lux and  supports up-to 1080P in resolutions and has a contrast ratio 1000:1, which is awesome for it;s size.
Picture quality is good for a projector this size, this projector has also been praised by cookie decorators as it has worked well for them.
It is pocket sized and has a 5200 mAh of battery and does not need to be connected to the power in-order to be used.
The 5200 mAh battery can give you up-to 3 hours of run time. it's also possible for this projector to be used with a powerbank, so it can be used for watching movies during camps or outdoors in general.
The Vankyo burger 101 can be charged using the Android USB phone chargers.
The Vankyo Burger 101 has been highly praised by users for it;s protability, ease of use,light weight and also long battery life per charge.
Some of the most common uses for this projector are cookie decoration, image tracing and outdoor movies.
The Vankyo Burger 101 is also durable, as said by users.
Small
Lightweight
Quiet (No fan noise)
Built-in speaker is not loud
Check out the VANKYO Burger101 Projector
Check Vankyo for latest deals!
This next projector has 6000 LUX of bright and 550 Ansi lumens and can make from 60″ to 200″ of picture size. As for contrast ratio, it has 6000:1 of contrast ratio.
The Crenova Home projector is really light in weight and portable and makes a good projector for someone who travels alot.
This projector does not have bluetooth capability, but  with a bluetooth adapter hooked up to the USB port, this projector can have bluetooth capability (cheaply).
This projector has good picture quality ( may not be same as the 800 dollar projector) but for it's capability to support 1080P resolution, it has good picture quality for the price.
The Crenova Home projector can also play multimedia such as movies, music etc directly from a USB drive.
For this projector, users mentioned how this projector is quality in terms of it;s build, looks great and the material feels good.
In terms of picture quality, users said how it is crispy and vivid. Apart from all that, users highly admired how the speakers are loud, louder than average.
The Crenova Home Projector however has a few drawbacks according to users, the one and only drawback to this projector is how the power cable is really short.
Sound is really good
Good picture quality
Check out the Crenova Video projector on Amazon 
The GooDee G5oo Mini projector is a 4000 Lux projector and supports 1080P and can give image sizes from 44″-200″ With distance of  5ft-15ft.
The GooDee G500 is 1280*720p native and has good picture quality for the price.
Looking at this projector, it has a nice and modern design, kind of like Apple product designs, This projector deserves an A+ in terms of product design.
This projector has good picture clarity and  color definition. The GooDee projector is also not bulky and easy to set up.
With regards to picture quality, this projector is good, however users mentioned that for optimum performance, this projector is best used in a dark to dull room, in this conditions the pictures are great.
Secondly, users said how the speakers are not that loud and may need a secondary pair of speakers for the best experience and lastly, the fans are not loud at all like most other projectors.
Good picture quality
Quiet fan
Easy to set up
Works better in a dull room
Speaker not loud
Check out the GooDee G500 Projector on Amazon
The Yaber Projector is black and kind of has an archaic design, but for the price, it is a good projector. This projector is advertised as 1080P, but I doubt, at the most It must have 800 x 480 or 720P, which in my opinion is good.
It is 6000 Lux bright and can project a distance of  50″ to 300″ The recommended viewing distance is (5 – 30ft) and 10ft.
The Yaber Projector is light weight and would be recommended as a travel projector, this projector can be used for presentations of movies while out of the house.'
Although it is a decent projector, a dull room works best for this projector.
Users had said that the Yaber projector gives good pictures for the price (not the best in the world) but decent, users also said how this projector is easy to set up and also light in weight that it will be easy to carry it around.
One thing that this projector stood out from the rest as mentioned by the users, is how this projector has an efficient cooling system.
The Yaber projector according to users, has a really good cooling system that the fan is not distracting.
Easy to install
Loud speakers
Low fan noise
Recommended for dull rooms
Check out the Yaber projector on Amazon
In the category of Pico projectors, this has to be in my opinion the best in this price range.
The Aaxa Pico projector is palm sized and has everything a projector would have, except that this projector has more, it has an in built battery (which can give you 1 hour and 20 minutes of fun).
Bigger projectors don't have batteries so that is a good advantage of Pico projectors over the large ones.
This projector supports 1080P and is 720 native in terms of resolution, at that resolution it gives you upto 60″ of pictures, with a contrast ratio of 1000:1.
If you are a baker or cookie design, this is a good alternative to the Kopycake projector.
Can be used with a powerbank, so with a tripod a powerbank, this can be used as an outdoor mini cinema projector.
Users of this projector mentioned how user friendly and easy to use this projector is, with good colours. Secondly, user also mentioned how light weight this projector is (obviously)
The only drawback to this projector is that the speakers aren't loud enough and would need an additional speakers.
Easy to use
Good pictures
Has internal batteries
Lightweight
Check out the Aaxa Pico projector on Amazon
This artlii projector looks similiar to a Vankyo projector but is more stylish. This Artlii projector also has 4000 Lux and can support upto 1080p, although not written, I think that this projector has a native resolution of 800 x 480, which considering the price, is good (at this price range).
It might truly be a 1080P projector, regardless of it's resolution, it is a good projector, picture wise.
This Artlii projector can give you a projection size of up-to 200″ with a contrast ratio of 3000:1
Users had said how the Artlii projector is good for the price, users also said that there are plenty ports for your connections.
There is no zoom function available on this projector, so you will need to physically move the projector to change image size.
Although you will need a dull room for optimum performance of this projector, the speaker is loud  and you won't be needing an external speaker.
Loud speakers
Easy to set up
No zoom function
Needs a dull room
Check out the Artlii projector on Amazon 
For projectors under a hundred bucks, the Vankyo Leisure 3 is the recommended, I'd recommend the Vankyo Leisure 3 even for buyers with a $400 budget.
The Vankyo Leisure 3 has received an overwhelmingly high reviews from people, it shows how awesome this projector is.
The projector in question has the ability to support 1920×1080 resolution and also has a 2000:1 contrast ratio, with regards to native resolutions, it is 800 x 480 native, for a projector that you can get with a hundred dollar bill, this is good enough.
The picture quality is good plus it also gives really crispy pictures, the Vankyo Leisure 3 also has a good ventilation system.
First thing that users said about the Vankyo Leisure 3 is that this projector gives good pictures, maybe not equivalent to a $800 projector but is good enough.
Secondly, the Vankyo Leisure 3 has a good User Interface and users may also find it easier to navigate around the menu.
Although this projector is not recommended by users to be used in a professional environment for PowerPoint Presentations, it is however good for movies and other stuff.
With the room a little bit dull, with the blinds closed, the Vankyo Leisure 3 is a really good projector overall for low budget buyers.
Crisp pictures
User interface easy to use
Cool running projector
Check out the Vankyo Leisure 3 on Amazon 
Features, Specs and other things to look for in a projector (Buying guide)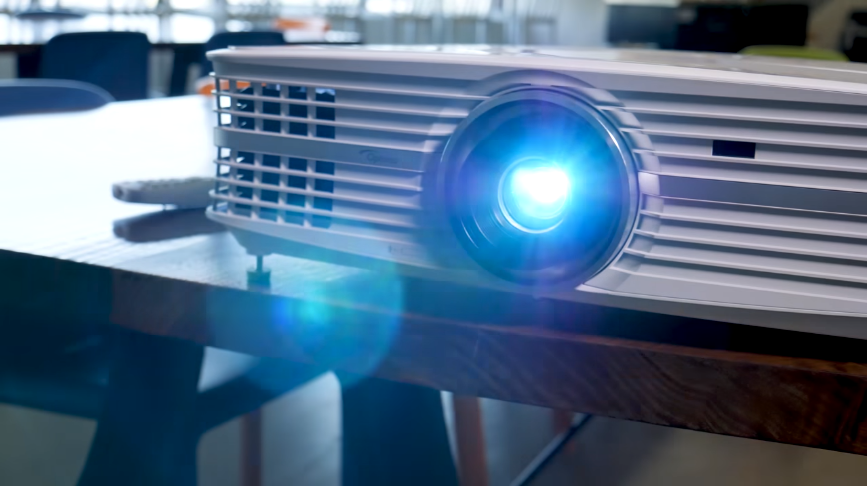 In this guide of best projector under 400 dollars, here are somethings that you must look for when buying a projector
Things to look for:
Lumens
No matter what the price range of the projectors are, the first thing that a projector consumer should consider is how many lumens a projector has, lumens is a measurement of how bright a projector is.
Depending on size and price lumens of a projector may range from 50 to 4000 lumens.
Some projector brightness are measured in Lux, which is a watered down version of Lumens.
External  Speakers
Depending on the intended use of the projector you'd want to get an external speakers (which is more practical than having to rely on external speakers of the projector)

Size and weight
Depending on the use, do consider the weight and size of the projector, a heavy projector will be burdensome for users having to carry them around if it will be a travel projector.
Connectivity
What medium is going to be use to feed your movies, images, music or PowerPoint presentation onto the projector?
Check projectors if they have the connection port for the medium that you have in mind. eg HDMI, USB, WiFi, Bluetooth, SD Card etc
---
Additional Tips
Buy branded products
First and foremost advice when getting a projector, is to get a branded projector, preferably from well known projector makers like ViewSonic, Acer, Epson, Sony Etc.
Branded projectors like everything else, may be pricy, but they come with product support, parts availability and a community behind these projectors and last but not least, quality, they are more likely to be the best of quality.
Blurry corners
Some projectors, this is mostly for cheaper projectors, they tend to have a little bit of a blur on the corners of the images when using the keystone features, playing movies on the projector will work fine, but users should expect a little blur on the corners of the image.
Mounting or Positioning
Take into consideration the mounting position of method for the projector, is it going to be screwed to the ceiling, used with a tripod or place on the table

Projector audio/speaker
For low priced projectors, do not expect really good built in speakers to come with the projector, low priced projectors often have projector volume that's low and often time don't have bass to them. But they do have Aux Audio out and HDMI audio extractor which can be used to connect to a speaker for audio playback, which should be useful for movies, presentation or music listening.
Match the computer resolution with projector
For maximum clarity of the projection image, match the resolution of the computer and the projector, if your computer has a resolution of 1280 x 720, it is also advisable to get a 720P projector so that they match.
Buying projectors for PowerPoint presentations
Powerpoint presentation projectors often needs alot of lumens (3000+) and a lot of resolutions as the more the resolutions a projector has, the more pixels it also has, so details standout. When buying a projector that will be used for powerpoint presentation, it is advisable to get a 720P, 1080P native resolution or even better a 4k projector. Text displays may need projectors with good native resolution because low resolution projectors often give out blurry texts which are hard to read unless your fonts are big.
Keystone and focus adjustments on large screens
For low priced projectors, poor keystone and focus adjustments are to be expected, more manual adjustments will be made with these projectors, on the brighter side, they are portable
More resolution is equal to more weight.
The more the resolution a projector has, the weight it will also carry, so if you need a light weight projector, do sacrifice a little bit of resolution, components that give it more resolution also give it more weight.