Keystone correction: what is it?
If you have read or heard about keystone correction, then you will know that it is associated with projectors, this is a term that is often used on projectors.
Keystone effect, is in fact is a feature of projectors which causes image distortion.
I have decided to write about this article after I have seen some posts on forums with "I can't get a perfect rectangle from my projector" or "how to straighten projector image".
Let's get that keystone distortion sorted!
Key Takeaways
Keystoning results from misaligned projectors; it's crucial to align them correctly.
Keystone correction fixes distorted projector images on angled screens.
Keystone correction can reduce image resolution; use it when moving the projector isn't possible and adjust focus for clarity.
What does it mean?
Keystone correction is simply the correction of a distorted image that has been projected to an angular screen making it uneven.
When you project something onto a screen that does not directly face you or is at an angle, you get uneven projection. A normal projection is supposed to be perpendicular to the screen, but a projection from an angle forms a trapezoidal shape, which is not pleasant to look at.
The process of correcting this anomaly, is called keystone correction.
What causes keystoning?
Keystoning happens when the projector is not lined up perpendicularly on to the projection thus resulting in a misaligned, or skewed image.
In other words, mounting the projector at an angle, causes keystoning as the best angle to project is parallel, the projection must be parallel to the projection screen for the best viewing experience.
And if you are doing a presentation, having a keystoned projection will make you lose your audience, and defeat the purpose of projectors in the first place.
And also, if you are watching a movie, it will not be enjoyable because of the distorted image, hence the feature that projector makers came up with to combat the issue.
Manual keystone correction.
You can fix keystoned projection, simply aligning the projector to match the screen angle , this is often the best way to fix keystone issues.
Another way to fix a keystoned image is to simply tilt the image screen so that it rights itself onto the screen.
How to keystone on a projector.
Now that we have covered manual keystoning to correct the non-perpendicular image on the projector screen, we will now cover how to use the digital keystone correction feature which comes with most projectors.
The keystone adjustment feature on a projector is useful when users cannot move the projector around.
There are many ways to correct keystoned images on various projectors.
Some projectors have the arrow icon button on the top of the projector, you can just press it according to how you want the keystone correction to be done.

Press the up arrow or down arrow to move up and down.
Other projectors have the keystone correction feature accessible by using the "Menu" button on the remote, look for keystone correction and adjust using the arrow keys on the remote.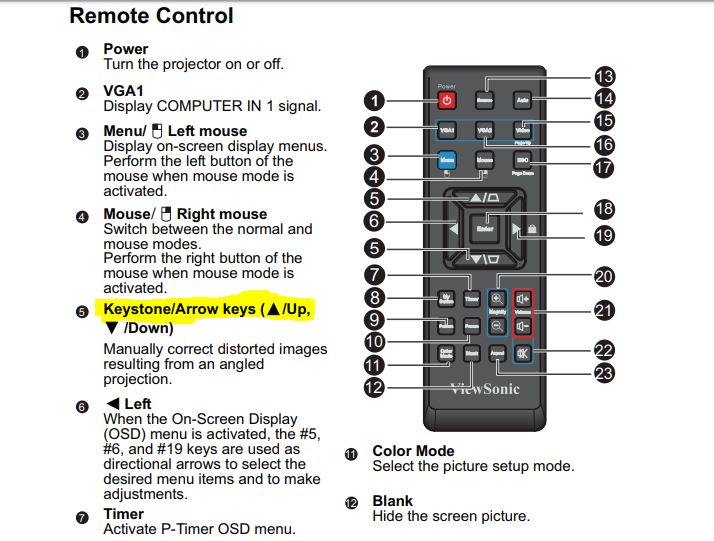 Does keystone correction reduce resolution?
Yes, there will be a slight loss of resolution from keystone correction. This is because, keystoning involves shrinking the number of pixels digitally, therefore reducing image quality.
Additional tips
Keystone correction causes the image to lose its quality, therefore, keystone correction should be used only if you cannot move the projector.
Image resolutions is usually lost in this process.
Adjust the focus of the image to compensate the blurriness of the images.
Frequently Asked Questions about correcting keystoning on a projector
Q: Are all projectors equipped with keystone correction?
A: No, not all projectors have keystone correction as a built-in feature. However, many projectors today offer keystone correction to enhance the picture quality and usability of the projector.
Q: Is keystone correction an essential feature to consider when buying a projector?
A: Yes, keystone correction is an essential feature to consider when buying a projector, especially if you plan to use the projector in different locations or angles. It allows you to adjust the image and correct any keystone distortion for optimal picture quality.
Q: How do I adjust the keystone on a projector?
A: The method of adjusting the keystone on a projector depends on whether it supports manual or digital keystone correction. For manual adjustment, you need to use the lens shift or angle adjustment options available on the projector. For digital adjustment, you can access the keystone correction settings in the projector's menu and make the adjustments using the on-screen controls.
Q: What are the limitations of keystone correction?
A: Keystone correction has some limitations. The correction digitally or manually can only compensate for a certain degree of keystone distortion. If the projection angle is too high or too low, or if the image is severely distorted due to the projector's placement, keystone correction may not be able to fully adjust the image.
Q: Can keystone correction be used for both horizontal and vertical keystone adjustments?
A: Yes, keystone correction can be used to adjust both horizontal and vertical keystones. It allows you to correct the distortion caused by the projection angle in both directions, ensuring a more accurate and aligned image.