Let's look at "how to connect Xbox one to projector" now f you haven't already gotten a projector for xbox one, do check out our guide on the best projector for xbox one.
Moving on…
There have been a lot of gamers that are having trouble in trying to connect their Xbox One to their projectors.
Some projectors are not detecting any source of input and are showing no pictures, while some projectors are simply blank.
Is this you?
Or are you a first time projector buyer or Xbox buyer and are just trying to connect your Xbox to your projectors.  Maybe your projector is kind of archaic, and does not have the modern connection.
In this article we will be covering how to connect projector to xbox one, and also how to troubleshoot your projector if no picture is showing on your projector.
1080P | 3000 Lumens | 10,000:1 

| Short Throw | Low Input Lag |

1080P | 3600 Lumens | 25,000:1 | 300″ | DLP | USB | HDMI |

Cheapest | 800 x 600 | 3600 Lumens | HDMI | VGA |

4K Resolution | 3000 Lumens | Low Input Lag | HDR-PRO |

True 4K | 3500 Lumens | 12,000:1 | Supports HDR | HDMI
How to connect XBOX One to projector
1). Connect your HDMI cable to projector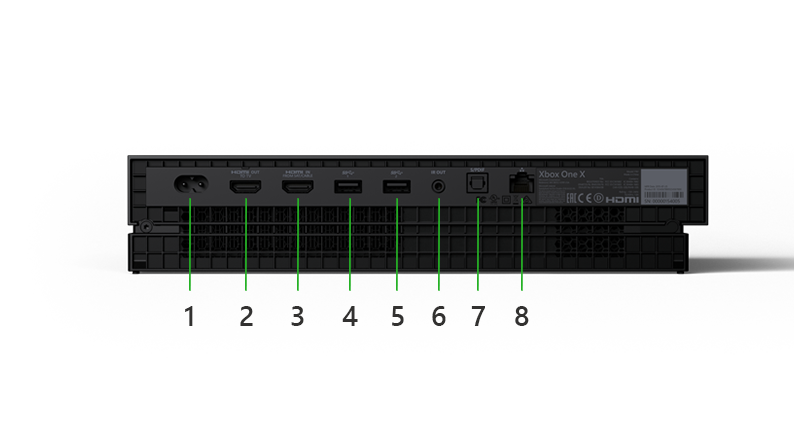 Simply connect your HDMI cable from your XBOX console (slot 2  [ refer to image above] to your projector with an HDMI cable.
(In the order below)
2). On your projector, set HDMI on your projector as "source".
Set projector source as HDMI. Make sure to try the other HDMI (HDMI 2), as there may be two.
Once your projector detects signal, you are good to go!
Easy peasy! For folks with older model projectors, it may not be as easy. Some older projectors don't have HDMI slots. How can you connect Xbox one to projector in this scenario?
Early 2000's projectors and TV's don't have HDMI slots as it wasn't popular back then.
For these old projectors, use HDMI to RCA converters.
Plug your HDMI cable from the Xbox to RCA converter using an HDMI cable.
From your RCA converter, use an RCA cable to connect the RCA converter to the projector.
Set everything up in the following order (from left to right) ;
No picture coming out of projector?
While still on the topic of "how to connect Xbox one to projector", there are some gamers on the internet that are finding it hard to connect their Xboxes to their projectors.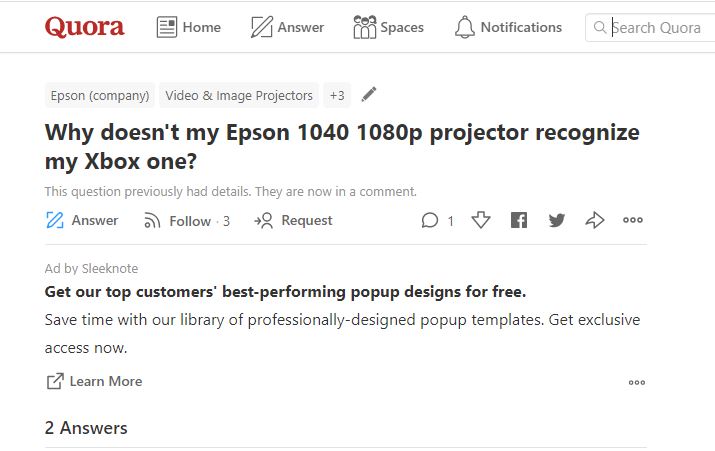 There could be a few causes to this.
Some ways in which your projector might not be able to show pictures from your Xbox, are due to the following reasons
A). Projector is unable to handle Xbox higher resolutions.
B). High refresh rate of Xbox.
C). Malfunctioned cable
Whilst troubleshooting your XBOX, use a TV, preferably a HD TV as it will be able to handle all the settings that the console has (some of the settings could be a problem on the projector).
If your projector was working before and now works no more, first test it out with other devices such as the Google Chromecast, Roku Stick or Apple TV so that the projector can be ruled out.
If the projector still doesn't work, try the solutions below.
Projector unable to handle higher resolutions.
If the Xbox is set to 1080p and the projector is set to 720p, then there's a mismatch right there.
The Extended Display Identification Data (EDID) through the HDMI cable communicates with the console about the best resolution that the projector can provide.
Once the best resolution is determined, the Xbox console can then start feeding it with video signal in the recommended resolution. It is not the case in this scenario.
Although the EDID suggests a lower resolution, the Console however feeds it with higher resolution, hence the malfunction.
Solution:
First set the Xbox resolution to the minimum possible resolution, using a HD TV, then set the projector resolution to a value equivalent or closer to the console resolution.
Resolution must not be higher.
High refresh rate of Xbox
Refresh rate is simply how much a TV or projector (for this matter) refreshes the picture on the screen. Much like motion pictures, the more it refreshes, the better.
With Xbox one boasting a new 120 hertz of refresh rate, this should provide a better gaming experience for Xbox users. However, could be a problem here.
An Xbox console spewing out a refresh rate of 120 hertz when the projector refresh rate is set to (or only capable of) 60 hertz, this is when a malfunction happens.
Solution:
On the Display and Sound menu of the Xbox, lower the refresh rate to match the projector.
First set the refresh rate to the minimum (24 or 50 Hertz) so that the "refresh rate" part of the problem is eliminated.
Malfunctioned cable
Test to see that your HDMI cable is functioning, use your HDMI cable on other device to check.
Now you know how to connect Xbox one to projector, you can enjoy hours of big screen gaming fun!