Don't we all love going to the movies, the big screen, comfy seats, nice aricon'ed room. We'll it comes at a small price. But what if we could watch unlimited movies here at home?
Well it's possible if we could set up our own home theaters, it's possible with the best projectors and other AV equipment that's easily available on the market, which is what we will review in this article.
If you are looking for the best projector for home theater, then you are at the right place!
In this article we will be looking at the best projector that one can get for home theater purposes that could not only be used for watching movies, it could be used for Youtube, gaming and presentations at home.
We will also be covering, Specs of projectors that makes them good for watching movies like the brightness and contrast ratios that will be at the end of this article.
What is a good projector for a home theater?
Without further ado, here the best projectors for home theaters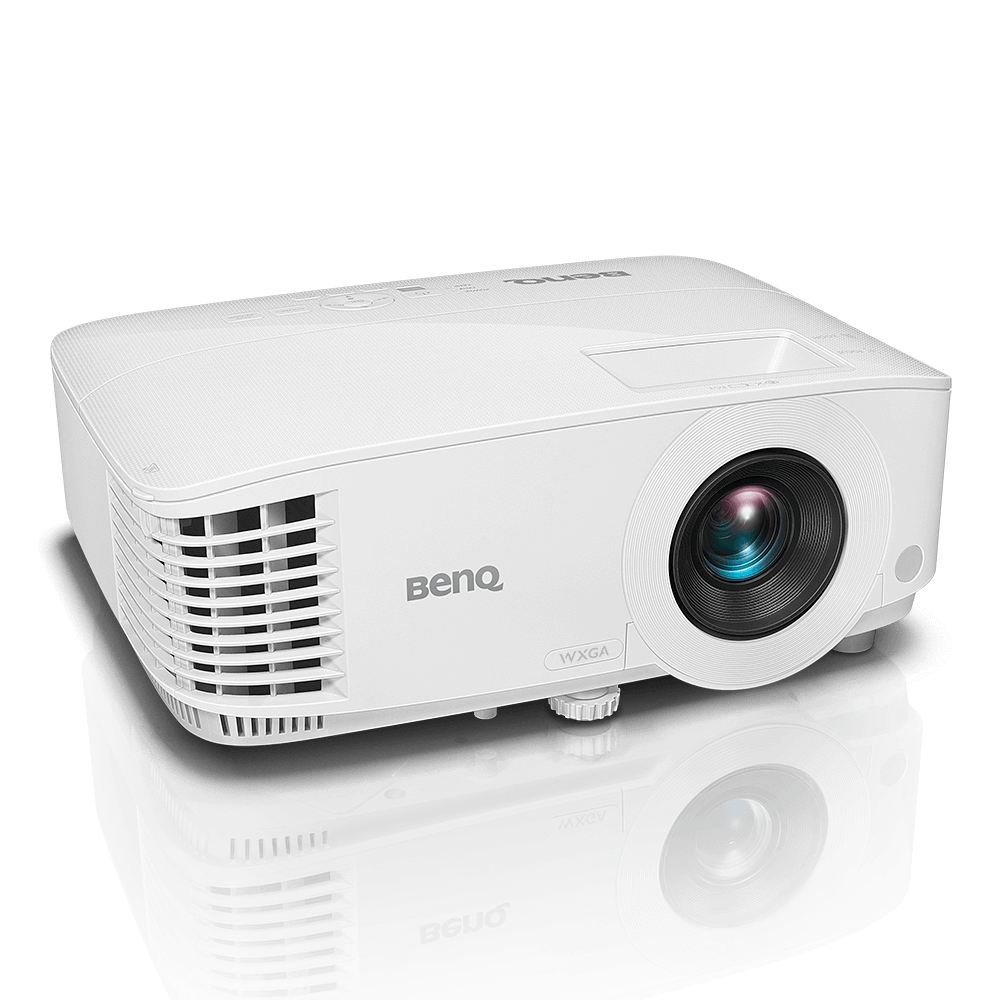 Check out the BenQ MW612 on Amazon
Resolution: 1280×800 px
Brightness: 4000 Lumens
Contrast ratio: 20,000:1
The BenQ MW612 is well loved for its reputation of being a bright projector, it is really bright and would suite home theaters.
Look and design
In terms of looks and design of the BenQ MW612, this projector has a modern glossy surface, looks bulky and glossy much like a magazine I would say.
It's predecessor has the old projector look at is so 2005, this model is quite a step up from that!
Brightness
This projector comes with 4000 lumens of brightness, it is common to find 1500 to 3600 lumens bright projectors in the market, but finding one that's 4000 lumens with a mid-range price is uncommon.
Resolution
In terms of resolutions, this projector is built with a WXGA (1280×800) resolution and will support 1080P resolution content.
Contrast ratio
This projector has a contrast ratio of 20000:1 double the 10000:1 that most other projectors have
Price
Unfortunately the price of this projector cannot be mentioned, but I can say that this projector is mid-ranged in terms of price.
Do check out the price of this projector on Amazon.
Customer opinion and review
Let's look at what owners of this projector have said with regards to its performance.
The projector is really bright that it performs well in daylight settings, long time projector users would understand the difficulty of this (projector battling with sunlight).
Another annoying problem with some projectors is how, some projectors are really noisy, especially the fan, since they work really hard to keep the components cool.
Well the BenQ MW612 fan is not noisy at all, something that most customers would really love in a projector.
Drawback of this projector
Like everything else there is, the BenQ MW612 has some drawbacks, this projector's only drawback is that the built in speaker volume is really low which should n't be a problem as you will be using an external set of speakers for more fuller and rich loud sound.
Pros
Really Bright
Not too expensive
Cons
Built in speaker volume is too low
<<Check out the BenQ MW612 on Amazon>>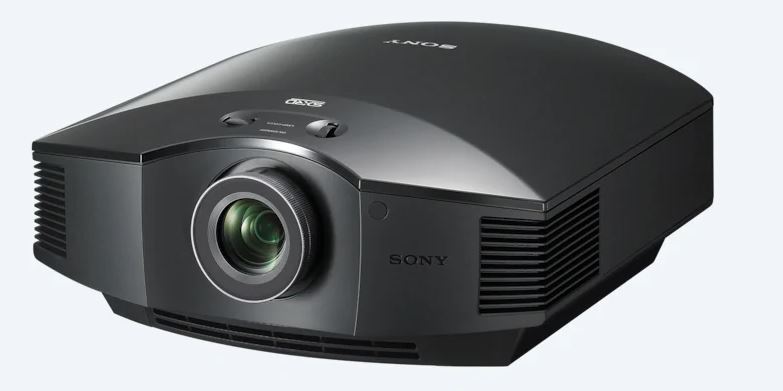 Resolutions: 1080P native
Contrast ratio: No dynamic contrast
Brightness: 1800 lumens
If you are one of those that, likes to spend and have enough to buy the best of the best, then the Sony VPLHW45ES is the projector for home theater for you.
This Sony product is one of the best at everything, they are a brand of quality and class. And this guy right here is the Burgatti of projectors.
If quality image quality is what you are looking for, then the Sony VPLHW45ES is the one
In this section we'll find out why.
Looks and Design
In terms of look and design, this projector is totally unique, you can straight away see how powerful and more commercial the Sony VPLH45ES is designed.
Brightness
The Sony VPLHW45ES is 1800 lumens bright, although not 3600 lumens, it should do the job especially when the room is a bit dark.
Contrast ratio
No dynamic contrast, meaning contrast ratio keeps changing according to the images. Contrast ratio will surpass the 10,000:1 and 20,000:1 ones.
Special features
Since this projector has a lot of unique features that only high end projectors have and I'd thought that it would make a good icing on the cake for home theater recommendations
3D capable: Comes with 3d glasses, so not only will you need to watch 3D movies in cinemas, you can also watch it here at home as the VPLHW45ES is 3D capable.
No motion blur: This is something that you won't find in normal projectors, when pictures are moving, or a character is moving, all the finer details is shown, there is no blurring occurs.
Resolution (Super resolutions projector)
Now here's one aspect of this projector that differentiates this projector from the rest. The Sony VPLHW45ES is native 1080P, unlike other projectors, this one displays 1080P as it is, unlike most other projectors that only supports 1080P but is not true 1080P.
Price
In terms of price, this projector is a good investment and is on the high end of the pricing scale and is a good investment to make/
Customer review of the Sony VPLHW45ES
The one thing that customers mentioned is how the picture is sharper, vivid, beautiful and detailed, this is something that you won't find in low end projectors.
Sports games are much smoother and pleasant for the eyes to watch and the price does reflect on the quality of the pictures.
Although with low brightness, this projector works well in daylight at 1800 lumens.
Customers also mentioned how the black is deep and gorgeous.
The only drawback to this projector is that there is no audio output, audio extractors will be needed to connect to external speakers.
Pros
Nice crispy images
Deep black
Cons
No audio port (needs audio extractors)
<<Check out the Sony VPLHW45ES on Amazon>>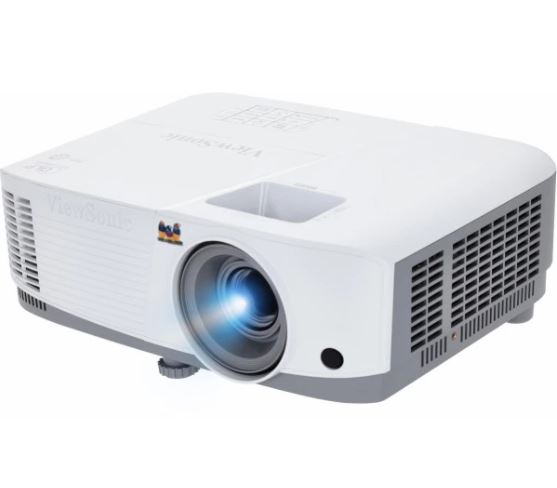 Brightness: 3600 Lumens
Resolution: WXGA (1280×800)
Contrast ratio: 22000:1
This has to be the cheapest best projectors for home theaters
The ViewSonic PA503W is part of the ViewSonic PA series, there are three projectors in this series, I am recommending the W version, there is S, X and W versions.
The PA503W version has the best specs of out all of them. The ViewSonic PA503W is also the cheapest out of all of the projectors mentioned in this buying guide.
Looks and design
The outer body of this projector looks low priced, but still also has the modern look, I quite liked the grey bottom.
Resolutions
The difference between these three is the resolutions that they all come in, the PA503S is the smallest out them, having only 800×600 pixels of resolutions, the X version, is XGA having 1024×768 pixels while the W version which is recommended for home theaters because it has the best resolution having 1280×800 pixels.
They are nearly identical with the W having a much larger body.
PA503W is recommended with a resolution of 1280×800.
Brightness
The PA503 series of projectors have been personally my favorite because, I like how they look and also their brightness combined with their affordability.
Let's look at the brightness of the PA503W projector, now in terms of brightness, this projector has 3600 lumens bright.
That's more than bright to be used during the daytime, most users of this projector has praised this projector for being really bright yet having an affordable price.
Contrast Ratio
In terms of the ratio of contrast for this projector, it is 22,000:1 which is slight more than the BenQ MW612, surprising because the BenQ is pricier.
Price
I'd have to recommend this projector for home theaters because of the price, this projector is really affordable having the capabilities of the much larger projectors.
It could be because it is non 1080P projector, I recon if it was 1080P then it would have a really huge dent on pockets.
But then again, for the price, I'd recommend this projector to budget minded buyers. `
Customer review
Let's see what customers have to say about this projector. For the ViewSonic PA503W, the one thing that customers mentioned of this projector is how bright this thing is.
Now I don't know, if they are just trying to praise this projector or what, but countless people have said how bright and usable during daylight this thing really is.
Despite the zoom feature being limited, this projector has good large crispy images.
One drawback that customers didn't like is how the externals speakers has a really low volume, so do get yourself a soundbar, or an external speaks for better sound if you are opting for this one.
Apart from that one drawback which is common in a lot of projectors since the makers of these projectors expect you to be using a speaker to go with it, the fan is also not loud, which is good news to customers.
Cons
Cheap/low priced
Bright
Usable in daylight
Pros
<<Check out the ViewSonic PA503W on Amazon>>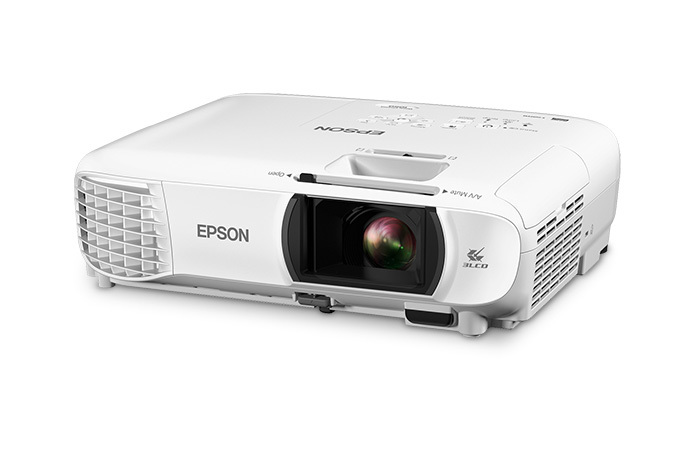 Brightness: 3100 lumens
Resolutions: 1080P
Contrast ratio: 15000:1
Image size: up-to 300"
 Design and look
I like the design of this projector because it has a rough, unique looking design that most of the other projectors don't have. The Epson 1060 is slim built and has a modern and tough look to it.
The unique part of it's look is the black glass in front.
Brightness
The Epson EX3260 is 3100 lumens bright, which is on the high end side of projectors, no need to worry about ambient light drowning out the image.
This projector is also known for its daylight performance, which thanks, to it's to 3100 lumens capability.
Resolutions
The Epson EX3260 is a 1080P projector, so far most of the other projector in this buyers guide has been 1280×800 pixels. 4K resolution being the best, for home theaters 1080P is enough to be the best.
Contrast Ratio
As for contrast ratio, it has 15000:1 which to be honest, is 5000 short of the other better projectors, but since it is 1080P, this is a plus, can't have everything in one as it will most likely sky rocket the price.
15000:1 is not bad, will still give nice blacks
Price
In terms of price, this projector is mid-ranged in price. So still quite affordable for the regular class of consumers+.
Customer review
The one thing that stood out about this device, is that it works really well in daylight, meaning it's really bright, so it works really well in home theaters.
Secondly, this projector is feature rich and will be enjoyed by techies and geeks, one such feature is the wireless features, customers enjoyed the convenience that the "wireless" (wifi) feature brings.
As for drawbacks or cons, this projector will need an external speaker(s) and a hdmi audio extractor, as it does not have a built in speaker, plus fan noise may be audible.
Apart from that, the image quality is good, 1080P right!
Pros
Cons
<<Check out the Epson 1060 on Amazon>>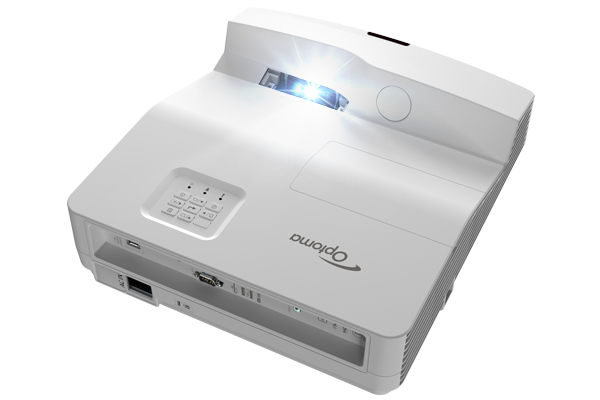 Brightness: 3600 lumens
Contrast ratio: 20, 000: 1
Resolutions: 1080P
 This next projector is also a top performer and it more suited or is a solution for people whose home theaters lack space, maybe you don't have much room length, then the GT5600 from Optoma is for you.
This projector will give you 100" image from only inches away from the projector screen.
Just looking at the form factor or body of this projector, you can already tell the power that it packs.
Looks and Design
I'd have to say that the Optoma GT5600 is bigger than the average projector, could be packed with components, this thing is huge and it's capability must reflect that.
I don't know why it's big, but it could be because of its 1080P and short throw lenses taking space in there.
This projector is odd looking, I'd have to say.
This monster, mounted on your home theater ceiling makes a good projector for your cinema.
 Brightness:
The Optoma GT5600 is 3600 lumens and is really bright that it can even be used during daylight, so images won't be drowned by the sun.
Resolutions
The Optoma GT5600 is 1080P native in resolutions, the images are nice, sharp and crispy.
Projectors in this price range are mostly 720P, but this one is 1080P.
Contrast ratio
Contrast ratio is 20,000:1, a bit average with the other projectors in this range.
60 Hertz native
Something unique that's also worth mentioning, is that the Optoma GT5600 is 60 Hertz native, so images transitions more smoothly and also has a low latency for gaming.
Short Throw
Makes 100 inches images from only 6" to 10" distance from the projector to the screen.
The thing that makes thing projector one of the best choice for someone looking for a projector, is that it's short throw, like really short throw.
If you don't know what short throw means, short throw projectors have the advantage of displaying large images with very little distance.
What makes it possible, is the special lenses that (in this case) the GT5600 has, that allows it to zoom the images so that with only a few inches, it can make images up-to 100" (from 6" to 10")
Price
As price cannot be mentioned, the price comparison of this projector the Optoma GT5600 is above the average price range, this is due to its 1080P native resolution and its short throw capability combined.
Customer review and opinion
Let's have a look at what customers have to say about this monster.
This projector scored good points in the Pros section and also had some Cons like other things.
The Optoma GT5600 is really bright and has good contrast ratio according to customers.
Customers quite liked the distance which it could achieve 100" of images, which is just around 6 inches or so.
The fan is hot, which is understandable for a projector this size. With that said, you might need good ventilation for your home theater.
This may not be the cheapest, but the quality of pictures you get out of this is money well spent.
Pros
Ultra short throw
1080P images
Cons
<<Check out the Optoma GT5600 on Amazon>>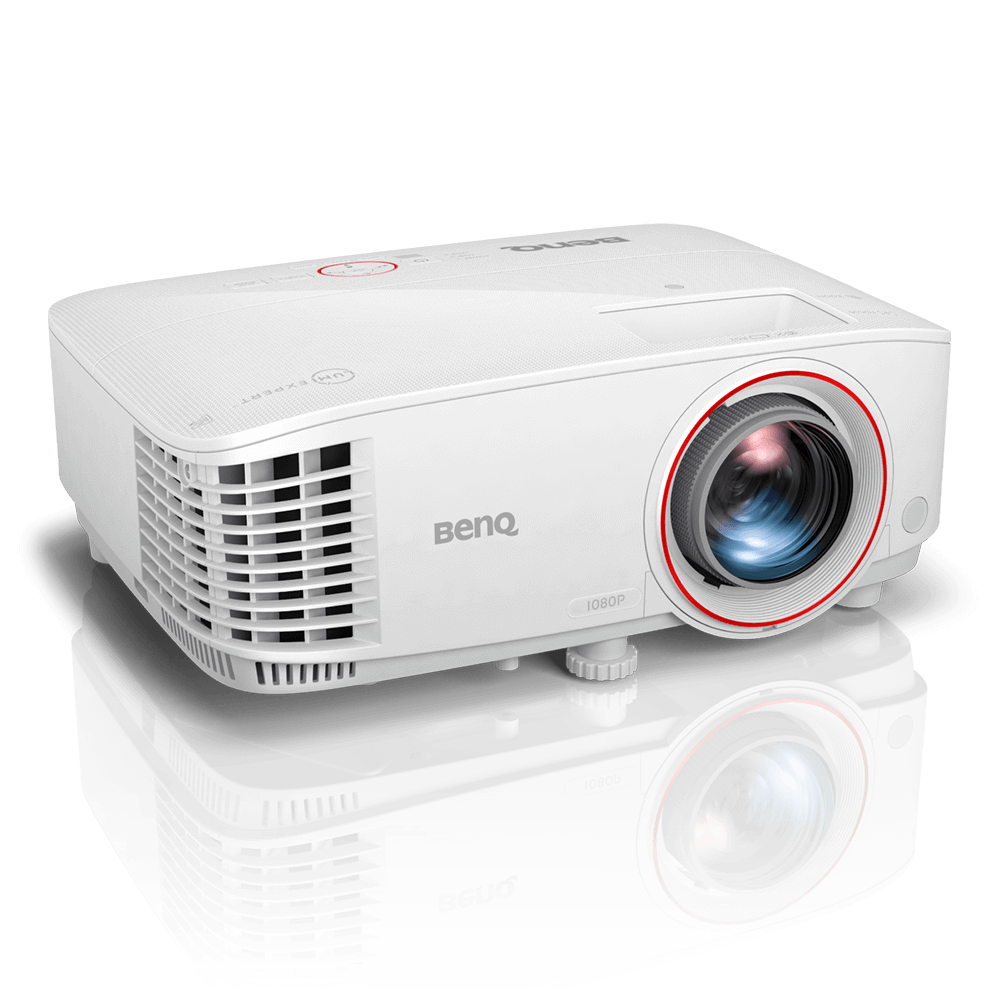 Brightness: 3000 lumens
Contrast ratio: 10000:1
Resolutions: 1080P
 The BenQ TH671ST was primarily designed for gamers in mind, its short throw, High Definition and also has a really low latency.
With gamers in mind, it also works very well as a home theaters projector especially with its short throw feature and most of all, its 1080P quality pictures.
Looks and design
In terms of looks and design, the BenQ TH671ST is quite modern and stylish, I like the look of this projector. The curvy front is the stylish part of its design, plus the vents makes it look tough.
Brightness
The brightness is 3000 lumens, good enough for daylight viewing, works wonder in dark home theater environments.
Resolutions
The BenQ TH671ST is full 1080P, images you get are quality and crispy
Meant for gamers and movie theaters
As this projector was made with gamers in mind, it has a low latency that the projector will respond quickly to the input of the gaming controller. So if your projector is going to be used for gaming as well, this would be a good pick.
Price
The price of the BenQ TH671ST is in the mids, so it's quite affordable if you are looking for a 1080P projector.
Customer review and opinion
In terms of customer satisfaction of this piece of entertainment equipment, the one thing that they quite liked is the quality of image that it gives, can't go wrong with 1080P right.
Secondly, most were pleased with it's short throw capability, only 5 feet is needed to achieve 100 inches of image.
So you take an average height person, make him lay with his feet touching the projector and his head on the projector screen, that is the distance needed for your home theater.
Pros
Bright images
Nice pictures
Cons
<<Check out the BenQ TH671ST on Amazon>>
What to look for in the best projector for home theaters
If you are new to projectors and you have no idea of how to read and compare or even what the specs are, then the guide below should help you with understanding the specs and how to compare them!
Also check out our best projector for daylight viewing that's cheap
Lumens (Brightness)
Lumens is usually the first spec that you must look at when buying a projector, what it is, that it's the brightness of the projector, eg 2000 lumens, 2600 lumens.
The more lumens it has, the brighter it will be and also the higher the price of the projector, it is important to find the right compromise for brightness and price.
Around 3200 to 3600 would be ideal for rooms with ambient light and home theaters as you would need a nice bright projector.
Resolutions
Second specification that must be looked at, is this, the resolution is the number of pixels the images has, most common are SVGA is 800 x 600, XGA: 1024 x 768 pixels and WXGA: 1280×800 pixels and there 720P and 1080P projectors.
The more resolution the better and more clear and crispy the image is.
Contrast Ratio
Now the contrast ratio is something we usually don't take much into consideration, but this one ratio actually is what determined the "niceness" of the overall images.
The contrast ratio is just the difference of the blacks and whites, the greater the better. A lot of times, when we see TV and projector images, we can straight away tell how nice looking it is, this is because of the "deepness" of the black and the brightness of the white.
That is what contrast ratio is.
Aspect Ratio
Aspect ratio is the ratio of the width and height of the image that it produces. These are some of the common aspect ratios. 4:3 and 16:9, choose a projector that has an aspect ratio of 16:9, this aspect ratio is the modern ratio that is used on today's films.
Choosing an aspect ratio that films use will ensure that the pictures fit the screen properly and does go out of place or crop out sides of the pictures.
Image size
Image size capability should not be thing as most projectors can do up-to 300" of images, which is more than enough
Short throw projectors
If you have really a small space for your home theater than a short throw projector is what you are looking for. A short throw projector than give really large images at a short distance like less than 2 meters.