Presentations work better when Visual media, texts and videos combine to make a more richer experience. In this way, information is conveyed across more easily, and students will also enjoy the presentations. (information will be easily recalled)And with that said, we will be looking at the best projector for classroom presentations.
Keep reading.
Whether it be for presenting class projects, displaying notes, watching tutorials from Youtube, a projector will be a worthwhile investment for teachers and schools.
As time goes, we slowly incorporate tech gadgets into our learning, plus there is a wealth of useful information for academia that's available on the internet. Maths tutorial, Chemistry, Biology, you name it and the best way to display this information is with a projector.
Students will also enjoy learning using these learning aids.
So in this article, we will be looking at the best projectors for classroom presentations and also how to choose your projector and what features it must have in-order to have to have a flawless classroom presentations, those information will be available at the end of this article.
So Without further ado here are the best projector for classroom presentations;
Best projector for text presentation also the best wireless Epson projector for classroom use

Check out the Epson 1060 on Amazon
To begin with, this projector is the king of bright projectors. The Epson 1060 is one of the brightest projector you can get that's reasonably priced.
With 3,100 lumens of brightness, 1080P resolutions and 15,000:1 contrast ratio this projector does not fail to impress.
It has all the specs that is need for good classroom presentations. The Epson 1060 has 2 x HDMI ports. In terms of image size, this projector can do up-to 300 inches of image.
Has an operation distance of 19 feet. The Epson 1060 can be mounted upside down with a universal projector mount.
This projector is also a wireless projector and can also be used as a network projector, so people from the whole school can have access to this projector from within the network.
There are some cons to the Epson 1060 projector however.
First cons to this projector is that it does not have an aux port, so you will need to have a HDMI audio extractor which is available cheap on Amazon for this projector to work with an external set of speakers.
Second cons of this projector is that, unless used in Eco mode, this projector has noticeable fan noise
Super bright
Easy to use
Wireless
Noticeable fan noise (Use in Eco mode for less noise)
Click below to find out the price of this awesome projector on Amazon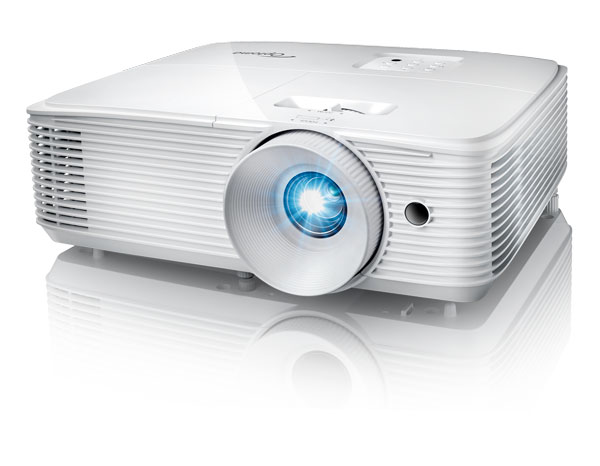 This next projector is a high end projector from Optoma, but what it has is brightness which is perfect for classroom presentations. The Optoma HD28HDR
looks kinda archaic or old design-wise, but this projector is the 2019/2020 release of this model.
This projector is 3400 lumens bright, it was made for gamers in mind and works really well for classroom settings.
The HD28HDR projector is a 1080 projector with HDMI ports, more ports than you'll ever need.
With a contrast ratio of 50,000:1 and an image size of up-to 305 inches, big enough to fit a PowerPoint slide and also huge enough to be read well by everyone in the classroom.
If you are worried about how much distance this projector needs inorder to produce a large image, with only 9 feet of space, it can create an image that 100 inches.
A few drawbacks that's worth mentioning is that this projector emits some mechanical and fan noise, which is not really that bad.
The Optoma HD28HDR projector can be mounted to a projector mount and can also use a bluetooth transmitter.
What to look for in a projector for classroom presentation.
Bright projector
This is really really important, I can't emphasize how important this is, the brightness of your projector is really important in-order for students to be even able to see your presentations.
Why does it need to be really bright?
Classroom presentations usually if not all the time, takes place in classrooms where ambient sunlight will be shining through the windows. The sunlight will drown out the projector image.
Yes, curtains and blinds can be shut, lights can be turned off, but still, the best projector will be bright enough for daylight viewing.
Lumens, is what denotes a projector brightness, check the specs to see that the projector is atleast 2000 lumens bright.
The brighter the better, for a classroom setting, a 3200 to 3600 will really be useful for really bright setting.
Resolution
Very important to check before buying a projector, only buy resolutions of at least 800 x 600 projectors or better, 720P projectors. The reason being, is that low resolution projectors tend to be blurry.
These low resolution projectors tend to have blurry texts and also blurry edges, for movies, they are enough, but for text, high resolutions give really texts.
Listeners, students will like the overall look of the presentation if the resolution is high enough.
720 and 1080P projectors should do the job.
Throw ratio
Although this is not something you will need to be worrying about, the throw ratio is what the lens is capable of giving out. The distance away from the screen and also the image size that it can produce at that distance (from the projector to the screen).
Only worry about this if you have a small classroom, otherwise most projectors will work well giving its best maximum image size like 100″
Did you know that some projectors are recommended for PowerPoint presentations
Not all projectors can project letters and numerals (texts) flawlessly, this is where high resolution projectors come in. 720 to 1080P projectors make good projectors for PowerPoint presentation.
Worry not as presentation texts are usually large enough to be seen from further back in the room. Its the 11, 12, 14 and 16 fonts that will be hard to read by the back benchers of the class.
Not all projectors are compatible for text display, in other words, not all projectors can and should used for PowerPoint presentations, check out why.
Wireless is better and more convenient
If you are looking to mount your projector on the ceiling there's certain things that you must consider so that your set up will work.
Wireless connection up to the projector is more easy, easy to connect to when it's connected through WIFI, there's no cable and what not to install, all you have to do, is connect it to the laptop and the projector to a router, that way they can communicate. Some projectors allow direct connections to it.
This is better without having to wire VGA cables from above to below.
Network Projector
Epson projectors, like some other projectors, have the ability to connect to the network and be used just like a network node. A network node acts like other devices on the network.
Computers can then use it just like any other device on the network, connect to it and use it for presentations.
Here's how to set your Epson projector to be used as a network projector for mac.
Price
Price has come last on this buyers guide because good projectors for classroom presentations are usually not cheap, they come at a price since they have good resolutions.
Investing in these mid-ranged price projector is a good move especially when it's used for education.
An investment in education, is a worthwhile investment.
Buy popular brands
Most projectors on the market can do the job, but what happens when your projector breaks down? Does it need parts and technicians? This is where popular brands thrive.
Popular brands like Epson, ViewSonic, Akaso have good customer service, back up parts and also technicians that will ensure that your investment will not go down the drain and can be used for a really long period of time, I'm talking years and years of presentations.
That's it from us on the best projector for classroom presentations. We hope that you will be able to make an informed decision on some of the best projectors out there that are for presentations.