If you are a golfer or or planning to learn to play golf, here are the best projectors for Skytrack and Optishot 2 that you might want to use.
Right down below this article is a buying guide for what projectors to buy and problems associated with indoor golfing and how to choose your projector so that you overcome these challenges.
Without further ado,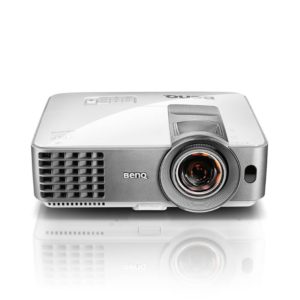 Although not the latest of models, the BenQ MW632ST  is an old Peterbilt truck amongst the new model of trucks. It works great and is one the more affordable option.
This projector has a resolution of 1280×800 with a brightness of 3200 Lumens.
The BenQ MW632ST is a short throw projector and would be really use in a small room as it can throw images upto 300 inches.
Contrast ratio of this projector is 13000:1. The BenQ MW632T has no lag and comes with keystone feature.
It has aspect ratios 4:3 and 16:9 which you can choose from when using it with your Skytrak or Optishot2 hardware.
BenQ MW632T Pros & Cons
Cheapest option
Bright for daytime use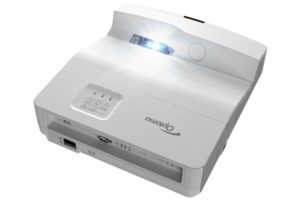 The Optoma GT5600 is a powerhouse of projector packed with power, the size of this thing.
Not your usual projector, this thing is more "industrial" sized and works very with Skytrak and Optishot2 golfing hardware.
It is an ultra-short throw projector, with only 9″ is needed to make an image size of up-to 100″.
If you are looking for a projector to hang upside down, this projector will work inverted and has 3600 lumens.
The Optoma GT5600 has a contrast ratio of 20,000:1 with 1080P resolution.
The only drawback to this projector is that it produces alot of heat and may need to be used in a well ventilated area.
Optoma GT5600 Pros & Cons
Bright
Ultra short throw
Quality images
Not the cheapest
Produces a lot of heat
What to look for in a projector for Skytrak and Optishot 2 (golf simulators)
If you have a love for golf and playing golf, wanna practice your golf shots, be the next Tiger woods at home.
If golfing or indoor golfing is your passion, spending money in your passion is highly recommended, since it will be your past time, stress reliever etc.
In this mini guide, here are some things that you must look for when buying a new projector for your OptiShot and Skytrak hardware.
Just about any projector can be used for golf simulators, but playing golf indoor presents some challenges such as lack of space, ambient light, resolution challenges.
Here are some things to look for in a projector that will allow you to overcome the following challenges.
Short Throw projector
Since indoor golfing will usually be in a really small room, a short throw projector will throw a really big picture with minimum distance with the help of the lens that it has.
Usually from 5 feet it can make up to 110″ of images. If your golf room is really small like most of the other indoor golfers, this is what you'd want.
Lumens/Brightness
Get the brightest possible projector, atleast 2000 lumens in brightness is often recommended because you will be playing golf during the daytime and ambient light tend to drown out projector image.
Alot of the good ones on the market are 3200 to 3600 lumens in brightness, these are the ones to get, they may not be the cheapest.
High resolution
Projectors with high resolution provides good crispy, clean and nice pictures that improve realistic-ness and helps with immersive-ness of the game (golf in this case).
A 720P projector or 1080P is recommended for golf simulators, if possible a 4k projector would be better if you have deep pocket.
Low latency projector
Projectors with low latency often meant for gaming and are often responsive and will respond quickly to controls being done by the Skytrack and Optishot devices, when you take a shot.
Since alot of electronic movements happens in the background signals are input from the golf simulator devices, it also takes alot of computing power for the projector to respond, low latency means that the input are reflected on the screen quickly this is possible with strong projectors that have "Low latency" capability.
Note: Projector heat
All high power projectors produce a lot of heat! In those cases it is advisable to use the projector in a well ventilated area or better yet install aircon in your playing area, it's a win/win for the projector user and the projector.