In this article we will be reviewing the LG electronics Minibeam mini projector.
Most reviews on the web will go through every boring spec of the device, but in our review, we will be touching on the most important aspects of the projector, only.
Also at the end of this article is my opinion and verdict of the LG Minibeam projector.
Without further ado, here's our review of the LG Minibeam projector PH300,

Brightness
The PH300 LG mini projector is not the brightest of projectors, but with the size that it has, it definitely is a bright projector with 300 ansi lumens. (May need to be used in a dull to dark room for best result)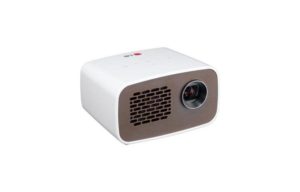 Resolution
The LG PH300 has a native resolution of 1280 x 720, 720 content like Youtube videos will play well with this projector. Most projectors this size will have a native resolution of approximately 840.
Built in Battery
The built in battery that the PH300 has, has a play time of 2.5 to 3 hours which is enough to watch a whole movie and tons of video clips. Built in battery projectors like this, can be used where no power source is present like camping, outdoors etc.
Contrast Ratio
The LG Minibeam PH300 projector has a contrast ratio of 100000:1 which means that the black color produced by this projector is really black and makes the images look "juicy". Contrast ratio determines how good the images will look (combined with other specs).
So, if you are after a projector with deep and nice "blacks", then the PH300 minibeam projector is for you.
Built in TV tuner
This has to be one of the specs of this projector that stood out from the rest of the projectors, and I know will be the most useful.
The Minibeam PH300 projector has a built in TV tuner that you can use to watch DTV-ATSC/TV-NTSC digital TV.
You can enjoy baseball games in the yard with your friends with this Minibeam projector from LG.
The TV tuner will work in the US and UK where there is digital TV available to the public.
Size of the LG Minibeam projector
The Minibeam projector is 0.95lb or just half a kilo and is 11.80 x 6.00 x 10.00 inches. As small as it is, this projector fits inside a baseball glove, for you baseball fans.
So you see how conveniently portable this projector is.
The Good
Portable (fits in a baseball glove)
Has a TV tuner
The Bad
Choice and verdict
There are newer models of mini projectors out there in the market, but since it is a LG product, I think I would go for this projector. The price of this projector, however, is a bit more than you might expect to pay for other mini projectors.
Something that projector users have always been wanting to do, is to watch TV on a projector, this can easily be achieved with this projector, as it has a built in TV tuner. This is one very good reason why I would buy this projector.
Although the PH300 LG minibeam mini projector has weak speakers, I would acquire a bluetooth speaker to go with this. As is the case with most projector speakers, they often require external speakers to compliment the great pictures.
Lastly, I really like the design and shape of this projector, which is another reason why I'd buy this projector.